"When you bring a guy like Pep in…he's Julius Peppers," linebacker Luke Kuechly said. "He's Julius Peppers – kind of a big deal."
But while Peppers continues to fend off Father Time and rewrite record books, another defensive end continues to quietly put up some impressive numbers.
Over the last 16 games – the second half of last season and the first half of this season – Peppers has been credited with 11.5 sacks.
Mario Addison has been credited with 13.5.
"Mario is great," Kuechly said. "He's the epitome of a guy who comes in, works hard, does everything that's asked of him and then it results in success. He just signed a big contract."
That big contract was a big deal in these parts and made a semi-splash nationally, as some NFL observers considered him the best pass rusher set to hit the open market. In late February, 11 days before he was set to become an unrestricted free agent, Addison signed a three-year contract to remain with the Panthers through the 2019 season.
He led the team in sacks in 2016 with a career-best 9.5 and leads the team with 27.5 sacks since the beginning of the 2014 season. That includes 5.5 so far this year – two fewer than Peppers, who in the process has moved into fourth place on the NFL's all-time sack list and has become the only player in NFL history with 150 sacks and 10 interceptions.
"Pep motivates me a lot," Addison said. "It's good to have somebody that pushes you, that makes you want it even more. He's that guy. He's making me challenging myself a little more, and I like it.
"When he's on the other side, you know he's going to give it his all. I've got to match his intensity of be even better. It's a good thing."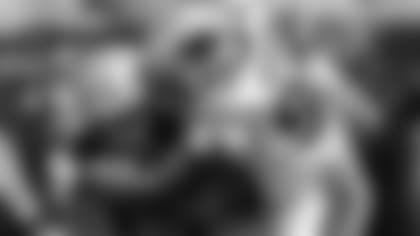 While the Panthers have been judicious in how much they've used the 37-year-old Peppers, it's been just the opposite with the 30-year-old Addison. He played 43 percent of the Panthers' defensive snaps last season – used primarily as a pass rush specialist – but this season he's been in on 62 percent of snaps.
Addison already has 28 tackles after recording a career-high 26 all of last season.
"He's just a good three-down football player," defensive line coach Eric Washington said. "He is a starter, capable of playing in any situation. He's done a nice job at the point of attack and has really helped set the edge for our rush defense.
"He has to be able to do things on second down against play action and still have the juice to rush on third down, and he's done a nice job with that."
And chances are Addison's snap percentage will go up if anything. He played 70 percent of snaps over the first four games of the season but suffered a knee injury Week 4 at New England. While Addison didn't miss a game, he played on just 45 percent of defensive snaps the next three weeks.
But last Sunday at Tampa Bay, he was back to playing about 70 percent of snaps and took advantage with 1.5 sacks.
"When I hurt my knee, it slowed me down a lot. I couldn't do the things I normally can do," Addison said. "Now I'm like 85 percent, it's better now, and I can turn it up a notch.
"I was trying to jump on it early this year, but now I'm almost back on pace. My goal this year is to get double-digit sacks. I'm going to make it happen, no matter what."
Addison isn't competing against Peppers but rather with him. The exciting thing is that Addison possibly hasn't reached his ceiling, hasn't yet become the player he ultimately can be.
Long term, Addison believes he has the tools to be a special player. Short term, he's healthy and talented enough to team with Peppers on Sunday and give Matt Ryan and the Atlanta Falcons fits.
"You still see improvement in terms of rush fundamentals every day – his hands, his angles, his countermoves," Washington said. "He lost a little bit of momentum when he tweaked his knee in the Patriots game, but now he's found his rhythm.
"I like the way he's practicing. Mario is going to have a big game on Sunday."
View photos from the week of practice leading up to the Panthers' game against the Falcons.