Not surprisingly, the first round of the NFL Draft was Marty Hurney's most productive during his first stint as Panthers general manager.
Now back in the role, Hurney wants to maintain his winning ways with early-round picks while improving his winning percentage in subsequent rounds.
Hurney, who is checking out the draft class this week at the NFC Scouting Combine in Indianapolis, believes he learned lessons from his previous 11 drafts and the five drafts that have transpired since his departure that will help his cause when the 2018 NFL Draft kicks off April 26.
"We've talked a lot about when you get to the second round," Hurney said before leaving for Indy. "We might have leaned toward need more (in the past), but if you keep that first-round philosophy (of best available player) in the second and third rounds, then you'd like your top three-round picks to come in and if they don't start in their first year at least fill a role and contribute.
"Keeping that philosophy after the first round – that's something I've been going through in my mind."
Hurney's last two first-round draft choices scored Luke Kuechly in 2012 and Cam Newton in 2011, continuing a string of first-round success stories that began with defensive end Julius Peppers in 2002 and offensive tackle Jordan Gross in 2003 and continued with cornerback Chris Gamble (franchise interception leader); linebackers Thomas Davis (franchise tackle leader) and Jon Beason; and running backs Jonathan Stewart and DeAngelo Williams (1-2 in franchise rushing yards).
The impressiveness of Hurney's first-round, first-pick track record can't be understated, but perhaps it's not happenstance that Hurney's one other first-round pick – offensive tackle Jeff Otah in 2008 – was the Panthers' second player chosen in that draft. Hurney opened the draft by taking Stewart even though Carolina already had Williams (i.e. best available player), but then he traded Carolina's 2009 first-round pick to get back in the first round and select Otah for an offensive line in transition. Otah was highly touted entering the draft, but he was out of the league after playing 29 games in four seasons.
Running back DeShaun Foster had an injury-shortened but successful run as Hurney's second pick in his first draft in 2002, but Foster stands alongside several subsequent second selections that didn't pan out as hoped like Otah, wide receivers Dwayne Jarrett and Keary Colbert, running back Eric Shelton and center Bruce Nelson.
"You don't want to sit there and say, 'We're going to take this approach,' because that's where sometimes you reach for somebody," Hurney said. "I think you have to let the situations come to you."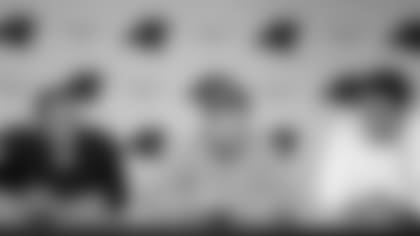 Hurney has never been one to discuss in detail his take on position needs entering the draft. But heading into the 2010 draft, after the team didn't re-sign standout receiver Muhsin Muhammad and he subsequently retired, the Panthers used their second and third picks to draft wide receivers Brandon LaFell (a solid NFL receiver) and Armanti Edwards (a CFL receiver with seven catches in four NFL seasons).
Then in 2011, after opening the draft by taking Newton, a roster depleted of options at defensive tackle prompted Hurney to use the next two picks on Terrell McClain (cut by Carolina before his second season but still in the league) and Sione Fua (cut midway through his third season).
Any GM that's had more success after the first round than in it has lost his job, but the best GMs have some consistency of success up and down the draft order. Hurney has had his share third-day coups (cornerbacks Josh Norman and Captain Munnerlyn and defensive end Greg Hardy) but also endured his share of draft disappointments like in 2011, when Newton obviously was a hit but none of the other seven picks were with the team come 2014.
Hurney said that "watching some of the best general managers in the business" during his time away from the game helped him learn patience when it comes to resisting the urge to draft for need.
"I don't want to jinx ourselves but organizationally we've had pretty good success in the first round," Hurney said. "But then in the second round, you want a continuation of that philosophy where you in the first round want to take a 'safe guy' – a guy who really doesn't have a lot of reasons why he wouldn't be successful at this level.
"That's where the patience part of it comes in. Whether it's in the draft, whether it's in veteran free agency, I think you just have to monitor the opportunities you have and then make the best decisions and take advantage of the best opportunities."
Take a look back at current Panthers players in action at the NFL Scouting Combine.