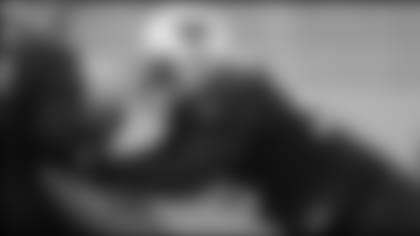 Defensive tackle J'Vonne Parker found himself on the opposite side of a quest for playoff position. (PHOTO: ANDREW MASON / PANTHERS.COM)
CHARLOTTE -- Last Monday, J'Vonne Parker wanted nothing more than to see the Panthers fall at New Orleans.
Forty-eight hours later, he was a part of the effort to keep that from happening.
"On the three-hour ride out here from Atlanta, I was thinking about that the whole time," said the 325-pound defensive tackle, who was signed to Carolina's 53-man roster from Atlanta's practice squad last Tuesday.  "I said, 'OK, I've got to switch gears.'  I was just hoping they'd lose, and now I'm playing for them.   It was a wild story."
It was one with a happy ending for Parker and the Panthers, as he played, provided depth for a defensive-tackle corps smashed by injuries to two starters and a backup and got to don a division-champions hat and T-shirt after the 33-31 win at the Louisiana Superdome.
"One day here, and I'm already a champ," Parker said, smiling. "Gotta love it."
Four days later, Parker is finding out that the bye week the Panthers earned is coming in handy.  While fellow defensive tackles Maake Kemoeatu and Damione Lewis use the extra time off to rest and continue their recovery from ankle and shoulder injuries, respectively, Parker can utilize the time to become more familiar with Carolina's defensive lexicon.
What the Panthers do is similar enough to what Parker experienced on Atlanta's practice squad this year, as well as in previous stints with the Cleveland Browns, Baltimore Ravens and Dallas Cowboys -- all of which had the 26-year-old Parker on their 53-man rosters in the last three years.
"People forget, I went to Rutgers.  That's pretty much an Ivy League school," he said with a grin. "So I picked it up pretty fast.  There's still a lot of small terms.  That's the thing that you have to get.
"Football is football.  Most plays are similar.  (Whether) you've been a 4-3 defense or a 3-4 defense, it's football.  It's just the terminology.  I haven't gotten that down fully yet, but I've got a lot of that down this week."
Parker is also spending the time readjusting to North Carolina, a state he last called home over two decades ago.  He was born in Roanoke Rapids, but his family relocated to New Jersey when he was three years old, where they remain.
"She's been trying to get back ever since," Parker said.  "(After being signed) I called my mom and said, 'I'm coming home.'"
And she might be joining him next Saturday night.
"I'm going to try to get her out here -- and hopefully, I'm playing," he said.
QUICK SALE:  It took a scant five minutes for all the available tickets for next Saturday's divisional playoff game to be snatched up by eager fans, as the game sold out Thursday morning in less time than it often takes for the Panthers to march to a touchdown.
The sellout ensures that the game will be broadcast locally.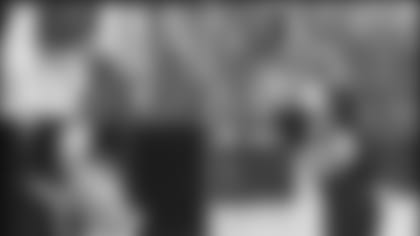 Matt Moore fires a pass, and Steve Smith leaps above his shadow for a reception.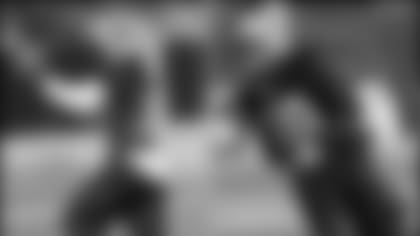 D.J. and D.J. ... D.J. Hackett, making the catch in stride, and Dwayne Jarrett.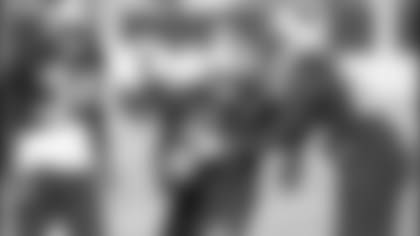 The three running backs -- DeAngelo Williams, Nick Goings and Jonathan Stewart -- during position drills.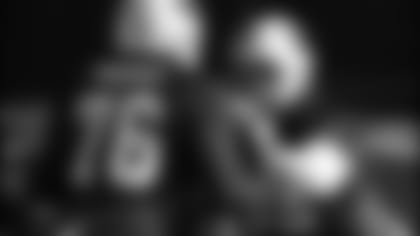 Jordan Gross and Frank Omiyale face off in a drill.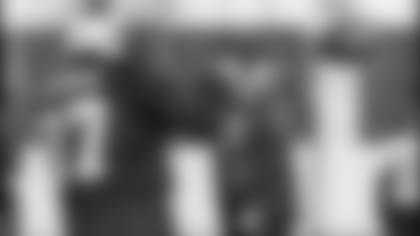 Looking it in: Muhsin Muhammad ...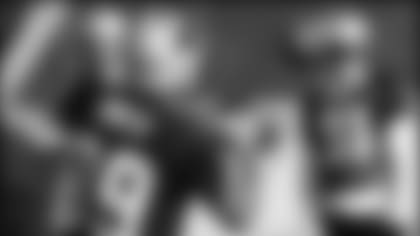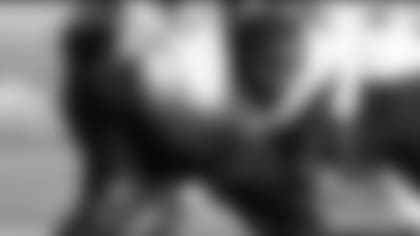 And a parting glance from defensive tackle Damione Lewis.