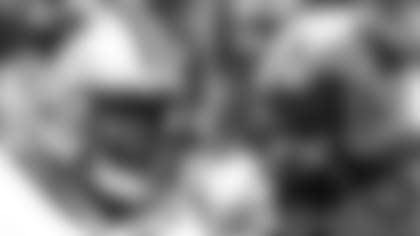 Two of the Panthers' last three first-round picks -- Jeff Otah and Jon Beason -- arrived after draft-day trades. (PHOTOS: ANDREW MASON / PANTHERS.COM)
---
CHARLOTTE -- Some years the Panthers key on a specific area of the team in the draft. Others, they spread their picks around the roster. But the one common thread through their drafts of recent years has been their willingness to deal -- even up to the last possible moment.
In six of the last seven drafts, the Panthers have made at least one draft-day trade, with nine overall deals giving the Panthers an average of 1.3 deals per draft weekend in that span.
The occasionally complex nature of draft-day trading means that it takes at least a little time for a deal to come together. But some groundwork can be laid right now as phones ring in offices around the league with teams bantering among each other about potential trades.
"Next week, teams will start calling around, seeing who's interested in moving up or moving down," general manager Marty Hurney said at his press conference last Thursday. "Normally it's just preliminary -- at least in my experience -- until the team gets on the clock or you get on the clock."
The next step comes when selections near -- whether they belong to the Panthers or whether they're the ones seeking a swap.
"If teams want to do a deal, you start talking before you're on the clock, anyway," Hurney said. "It might be five, six picks ahead -- - sometimes more. You have an idea of who's interested, and then as it gets closer, it obviously heats up."
A year ago, the Panthers moved back into the first round to select Jeff Otah; that process began after the team selected running back Jonathan Stewart with the 13th overall pick, Hurney said. Their 2007 exchange of first-rounders with the New York Jets also came together as the draft progressed.
"It happened the day of the draft," Hurney said. "You have an idea of what possibilities you'll have, and I think that's easier to do when you have a first-round pick and you're talking to teams leading up to the draft and have an idea as to whether someone's interested in moving up or down. But normally trades like that do not happen until right before your pick because most of the time teams like to see whether the player they were targeting is there."
In that case, the Jets wanted cornerback Darrelle Revis, and were willing to send their first-, second- and fifth-round picks to the Panthers in exchange for the 14th selection and a sixth-round pick. The Panthers moved down 11 slots in the first round and still got linebacker Jon Beason, then turned the extra second-round selection into center Ryan Kalil.
Kalil was picked with the 59th selection -- exactly where the Panthers are currently scheduled to begin their draft, with the first-rounder shipped away in the deal to pick Otah last year.
"It's human nature when you've done the work that you want as many picks as you can get. We also know anything can happen on draft day," Hurney said. "So you have to be prepared for everything. But we were very glad to have Jeff Otah with the extra first-round pick last year -- actually this year's first-round pick.
"We like the makeup of our team and we feel like with the picks we have, we can get players that can help us."
And if recent history repeats itself, there could be some dealing done to make that happen.
CAROLINA'S DRAFT-DAY TRADE HISTORY began with its first draft and first pick, when the No. 1 overall selection was sent to Cincinnati for their fifth overall pick and their second-rounder (No. 36) -- a deal that in essence became running back Ki-Jana Carter for quarterback Kerry Collins and defensive end Shawn King.
The Panthers made three other trades that day, dealing into an extra first-round pick via a trade with San Diego, moving up in the first round in an exchange with the Packers and picking up an extra sixth-round pick in a swap with the Chiefs.
Carolina wouldn't make that many draft-day deals in the next seven drafts combined, making solitary swaps in 1996 (with Denver), 2000 (with Tampa Bay) and 2002 (with Cincinnati). That exchange with the Bengals began the current trend which crested last year in the trade back into the first round.