Rain and fog dropped upon Charlotte as Steve Smith and the Panthers ran back to work Tuesday. (PHOTOS: ANDREW MASON / PANTHERS.COM)
CHARLOTTE -- So what if there was a little rain?
With the potential for precipitation in the forecast for Saturday night, it behooved the Panthers to step into damp conditions that vacillated between a fine mist and a dousing downpour throughout their two-hour practice on Tuesday at Bank of America Stadium.
The Panthers had largely managed to dodge the raindrops during the last few weeks, a time during which showers and storms have been frequent visitors to the Charlotte area.  Tuesday, their luck was up, as a window of dry conditions that opened for a half-hour late in the morning closed as the players walked to the practice field.
Head coach John Fox, however, doesn't put much value on the impact of the conditions for Saturday's game, even though the Cardinals have lost three consecutive games when the temperature was below 50 degrees since a 35-27 win at Cincinnati on Nov. 18, 2007.
"Both teams (have) got to react to the conditions, whether it's rain, cold, wind," Fox said. "I've never put a lot of stock in that."
THIS WEEK is not a time to be dour in Pantherland.
Yes, the focus in practice and in meetings must be as sharp as a razor blade.  Yes, the team must go about its business with urgency and diligence, knowing that the slightest misstep or difference between teams is exaggerated when facing an opponent that has done enough to advance this far and be in the top quartile of the league.
But it's still a game, and thus, it should still be fun.
"It's all fun. You've got to enjoy it," wide receiver Muhsin Muhammad said. "This is why you play this game.  It's fun.  My nerves are not racked and my stomach's not in knots.  I'm going to go out and relax and play this game the way I grew up in the backyard, loving to play this game."
For Muhammad, such games have been frequent in recent years, with this being his third playoff appearance in the last four seasons and fourth in the last six, thanks to a pair of postseason bows with the Chicago Bears in 2005 and 2006.
"This is stuff you love to do," he said, "and I think everybody out here should love and relish these moments."
TUESDAY the moment saw the Panthers work in full pads.
"It was good," Fox said. "I thought we had a great week last week. I thought it was a good time to go back and work on some things that have maybe given us trouble and clean up some things, hopefully, get guys healthier and more rested. Today was good work in full pads, and I thought the guys responded well."
Running back DeAngelo Williams said that the team had the option to eschew pads, but declined.
"Today, for instance, at halftime (midway through the practice), Coach (said), 'You guys can take off your pads and put on the blue vests,' and Moose and Julius Peppers said, 'No, we're going to keep them on,'" Williams said. "I was like, 'Yeah, let's go!'  It just gives you that energy and it keeps you fresh."
IMAGES FROM THE PRACTICE: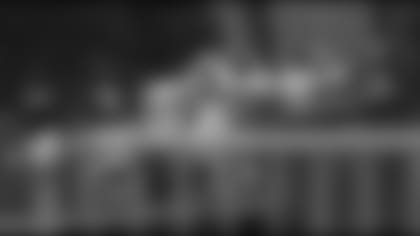 Over the river and through the woods ... from the locker room to the practice field at Bank of America Stadium.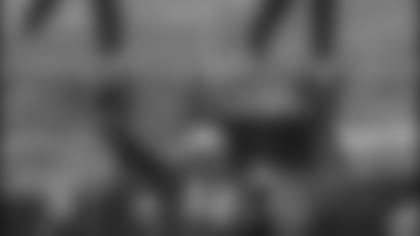 Quarterbacks Matt Moore, Jake Delhomme and Josh McCown fling passes through the raindrops.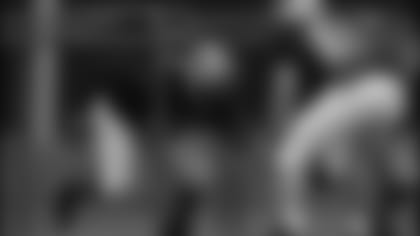 Mackenzy Bernadeau is forced to go low in a line drill, as he prepares to run into center Ryan Kalil.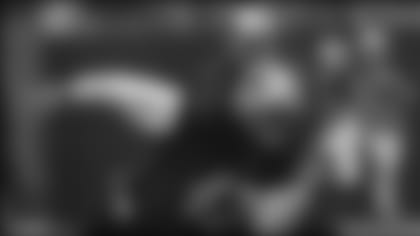 Jeff King takes off to run his route as Delhomme fades back to throw him the pass.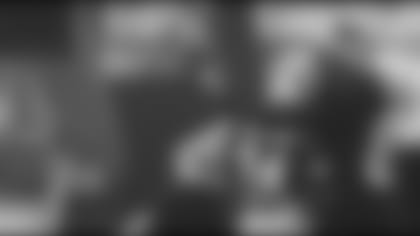 Looking it in: Steve Smith.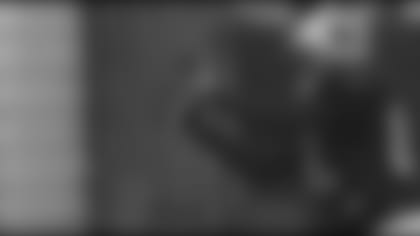 Looking it in, part II: Muhsin Muhammad.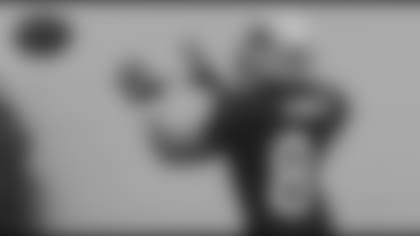 Looking it in, part III: Mark Jones.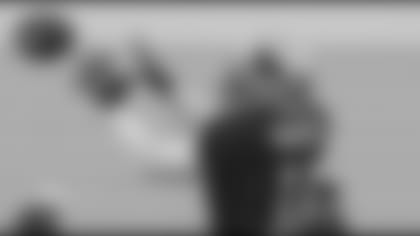 Looking it in, part IV: D.J. Hackett.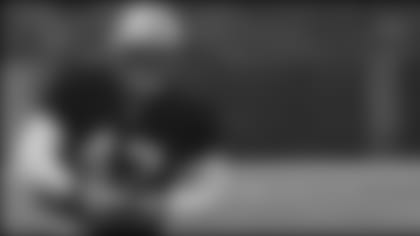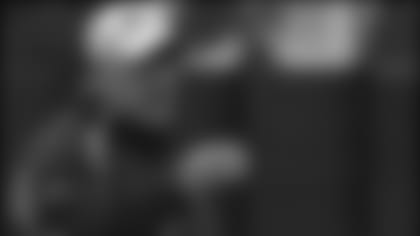 Offensive line coach Dave Magazu offers some instructions.