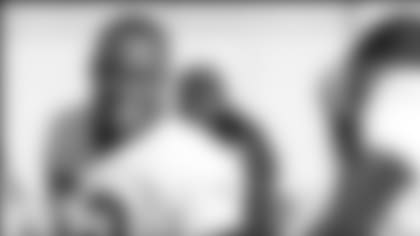 *Like many Americans, Jon Beason will be camped out in front of his flat screen this weekend, watching the playoffs. (PHOTO: ANDREW MASON / PANTHERS.COM)*
CHARLOTTE -- It might be a bye weekend, and the Panthers won't be battering around the practice field, but they won't be far from football -- which will be as close as their televisions, many of which will be tuned to the wild-card games.
"I've encouraged the players to watch those and stay focused on football," head coach John Fox said.
With their opponent next week to be determined by the results of the NFC wild-card playoff games in Glendale, Ariz. and Minneapolis, many Panthers will be taking Fox's advice. But many won't be merely monitoring the Falcons-Cardinals and Eagles-Vikings games, but examining them as a dean's list student would a textbook.
"I'm looking forward to this weekend," middle linebacker Jon Beason said. "We get to sit back and watch guys play.  It's kind of like an easy way to study film, getting to watch the games."
Added wide receiver Muhsin Muhammad: "We kind of know what the scenarios are. I've kind of got some things made up in my mind that I'd like to see happen, but you'll just have to watch and see what happens."
It won't hurt the Panthers' preparation that they have seen each of their possible divisional-round opponents before, including two games against the Falcons that were split along home-field lines with only two points separating the teams over the 120 minutes of football they played.
But a few things have changed for the Vikings and Cardinals since the Panthers faced them in Weeks 3 and 8, respectively.
Minnesota went back to third-year signal-caller Tarvaris Jackson, who had been benched by head coach Brad Childress in favor of Gus Frerotte after an 0-2 start.  Frerotte won his first 2008 start against the Panthers by a 20-10 decision and would start 11 successive games, going 8-3 in the process before a back injury sent him to the sideline, pushing the mobile Jackson back under center.  Jackson responded to the challenge by playing the most efficient football of his career, notching an 8-to-1 touchdown-to-interception ratio since returning to the lineup while leading the Vikings to a 35-14 win over the Cardinals and a 20-19 triumph over the Giants last week.
Arizona, meanwhile, inserted rookies Dominique Rodgers-Cromartie and Tim Hightower into its starting lineup a week after their 27-23 loss to the Panthers at Bank of America Stadium.   Rodgers-Cromartie delivered on his first-round promise, leading the Big Red in interceptions in spite of starting just over half the season, picking off four passes in his nine starts.  Hightower, however, saw his numbers diminish; after gaining 109 yards in his first NFL start at St. Louis in Week 9, he hasn't gained more than 35 since, with early-season starter Edgerrin James carrying the load once again by the end of the year, going for 100 yards in the regular-season finale against Seattle.
The impact of these alterations will be among the details the Panthers look for when they settle in front of their flat screens at 4:30 p.m. each day this weekend to watch the games unfold.
"I know we'll get the game tape or the coaches' tape on Monday, but it gives you a little bit of insight," Fox said.
But some will be watching simply to enjoy the games -- a unique luxury of the first-round bye that Carolina hasn't experienced in a dozen years.
"You get to watch a pregame show and hear what the experts have to say and just enjoy it for a weekend," said offensive tackle Jordan Gross.
When the Panthers aren't in the playoffs, as was the case in the previous two seasons, some players and coaches can't help but view the games with a tinge of sadness or bitterness.  But for a play or two that went askew in the 17 previous weeks, it could have been their team playing the proverbial "one-game season."   Some, when faced with that scenario, don't even watch, opting to travel, to keep busy, to do anything that doesn't involve a television on Saturday or Sunday afternoons in January.
This year, they can watch with a sweet taste in their mouths, knowing that the highest possibilities of a season remain within reach.
BUT JUST AS IMPORTANT as watching the games is making sure that the weekend is used for its primary purpose and reward ... to relax.
"We earned this and guys have got to be smart this weekend and get their rest," Beason said.
"We need to get our horses back, get everybody healthy and a little pep in our step," Gross said. "I think Fox is being smart with the schedule, giving everybody a rest that needs it. Hopefully, we'll come out next week stronger than ever."
Probably no players stood to benefit more than the injured Carolina linemen -- defensive tackles Maake Kemoeatu and Damione Lewis and offensive linemen Jeff Otah and Geoff Hangartner.
"We've gotten probably a lot of good rest for them this week and we haven't pushed them too hard," Fox said. "They still have tomorrow and Sunday and we'll form back up on Monday. I anticipate that they'll be a lot healthier then than they are now."
SPLIT SECONDS: The Panthers return to the practice field next Tuesday. With their divisional playoff game next Saturday night, everything on Carolina's schedule gets moved up 24 hours. As a result, the players' day off is Monday, with their usual Wednesday schedule on Tuesday, and so on ... No Panthers received votes for the league's MVP award, which went to Indianapolis' Peyton Manning by a landslide vote.