CHARLOTTE -- With the Panthers traveling to San Francisco for the 2017 season opener, there are a number of connections and storylines worth watching as college teammates reunite, coaches make homecomings and a two-time MVP and World Champion dons the jersey of his favorite NFL team.
Sunday will mark the pro debut of two highly-touted rookie players in Carolina running back Christian McCaffrey and San Francisco defensive end Solomon Thomas, both of whom were selected in the first eight picks of the 2017 Draft. Both players were teammates and roommates just 14 miles away from Levi's Stadium at Stanford University, where McCaffrey was a Heisman Finalist and Thomas was an All-American and Morris Trophy winner. Although the two went at each other every day in practice, Sunday will be the first time Thomas actually gets to hit McCaffrey…if he can catch him.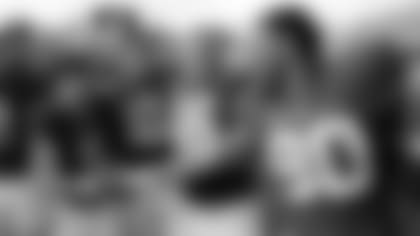 Along with McCaffrey and Thomas, a number of other opponents in this game shared locker rooms in college. Offensive lineman Laken Tomlinson and linebacker Jeremy Cash played together at Duke. Defensive lineman Tank Carradine, linebacker Dekoda Watson, wide receiver Kelvin Benjamin and kicker Graham Gano all donned the Florida State Seminole uniform between 2007 and 2013. Wide receiver Trent Taylor and defensive tackle Vernon Butler played together at Louisiana Tech, while safety Eric Reid, wide receiver Russell Shepard and guard Trai Turner all played together at LSU. Defensive back Adrian Colbert and quarterback Brad Kaaya are both fresh out of Miami, and running back Carlos Hyde and guard Andrew Norwell rep the Buckeyes. Running back Raheem Mostert and defensive tackle Kawann Short shared time at Purdue, and safety Jaquiski Tartt and corner James Bradberry each hail from FCS notable Samford.
San Francisco first-year head coach Kyle Shanahan spent the last two seasons as the Falcons offensive coordinator going against Carolina's defense twice a year. He knows what to expect from the Panthers defensive schemes, and expects Carolina to once again have one of the League's best defenses. As the son of longtime Broncos head coach Mike Shanahan, Kyle also grew up familiar with the McCaffrey clan. Christian's father, Ed, was a two-time Super Bowl Champion receiver with the Broncos in the 90's. Kyle Shanahan used to babysit young Christian back in the day, and he even took the number 87 in his collegiate playing career because of Ed McCaffrey.
While Shanahan will be making his professional coaching debut, Carolina head coach Ron Rivera will return to the Golden State and the Bay Area where he was an All-American linebacker for the Cal Golden Bears in the early 1980's. Rivera was born in Fort Ord, Calif., and grew up in a military family where he traveled around the world before settling back in Seaside, Calif., for high school.
A number of coaches on Rivera's staff also have ties to the Bay Area. First-year wide receivers coach Lance Taylor coached McCaffrey through last season at Stanford University. Special teams coordinator Thomas McGaughey held the same position at San Francisco in 2015, tight ends coach Pete Hoener spent six seasons (2005-10) on the Niners staff, and offensive line coach Ray Brown worked for the Niners in 2010 after playing for San Francisco from 1996-2001.
Quarterbacks coach Ken Dorsey played for San Francisco for three seasons after being drafted by the Niners in 2003.
Panthers running backs coach Jim Skipper was the head coach of the XFL's San Francisco Demons back in 2001.
Two members of the Panthers secondary spent time with San Francisco earlier in their careers. Offseason signee Mike Adams was an undrafted rookie free agent with the Niners in 2004, and eventually recorded 139 tackles and five interceptions in three seasons with SF. Safety Colin Jones was drafted by the 49ers in 2011 before being traded to Carolina.
Panthers offensive linemen Ryan and Matt Kalil might feel that their So-Cal roots, hardly make them a Bay Area connection, but the brothers grew up outside of Los Angeles and played at USC. Defensive end Wes Horton also played at Southern Cal and grew up in Sherman Oaks, Calif. Tight end Ed Dixon is from Bellflower, Calif., and quarterback Brad Kaaya hails from West Hills, Calif. Linebacker Jared Norris is from Bakersfield, Calif.; tackle Amini Silatolu from Tracy, Calif., and linebacker Shaq Thompson from the capital of Sacramento.
Perhaps the most famous Panthers fan will also be in attendance at Sunday's game. Two-time MVP and two-time NBA Champion Stephen Curry notably reps the Panthers whenever he can. Curry grew up in Charlotte and attended nearby Davidson College, where he first tasted stardom. Despite moving to the West Coast after getting drafted by the Warriors, Curry has remained a steadfast Panthers fan.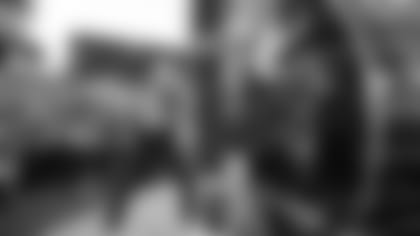 Curry pounded the Keep Pounding drum before Carolina's home game against the Texans in 2015, and then pounded the drum prior to Super Bowl 50 in Levi's Stadium. Curry is the only two-time Keep Pounding drummer since the team began the tradition in 2012.
Speaking of Super Bowl 50, this is the Panthers' first trip to Levi's Stadium since suffering that 24-10 defeat against the Broncos.