CHARLOTTE – The left tackle position requires thick skin and a short memory, so Matt Kalil doesn't really have time for a walk down memory lane.
"It's like a normal game," said Kalil, who on Sunday will line up against the Vikings team that drafted him. "I mean, I've got a lot of friends that will be out there. That's about it, but they're in game preparation so nothing really changes.
"They're an opponent we want to get after and get the win against. That's all we're focused on."
Beating the Vikings is paramount for the Panthers and their playoff hopes, and that is where Kalil's focus rightfully lies. But whether he's willing to go there or not, it has to at least be on his mind that he's facing the team that picked him fourth overall in the 2012 draft, the team with which he spent his first five NFL seasons before signing a blockbuster five-year deal with the Panthers this offseason.
To make matters more personal – and the task at hand more daunting – Kalil often will line up against Vikings defensive end Everson Griffen, he of 12 sacks so far in 2017. Griffen, who appears headed to his third consecutive Pro Bowl, and Kalil were Vikings teammates for five seasons and Southern Cal teammates in 2008 and 2009.
"I've played against him a lot, but a lot of those practices I wasn't 100 percent. I was injured," Kalil said. "So this will be a little bit different from my point of view as far as the things that I can do. I'll definitely get after it, and I'll probably be a different guy than they're used to the past few years."
Injuries were a big part of Kalil's final chapters in Minnesota. He was a Pro Bowl pick as a rookie and started every game his first four seasons, but over time a hip issue that had impacted him since college got worse. He played just two games last season before having surgery.
"I've been getting stronger and better each week, and my confidence is getting higher and higher," Kalil said. "I'm just ready to get after it."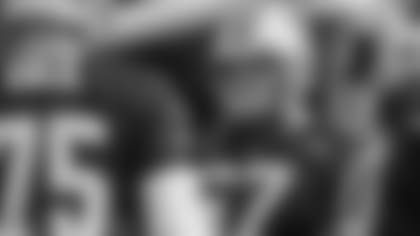 Brother and five-time Pro Bowl center Ryan Kalil, who said Thursday that he's on track to start for just the third time all season, said his brother has played well but admitted to a little brotherly bias. Offensive coordinator Mike Shula said Matt Kalil has shored up the Panthers' left tackle position compared to the last couple of seasons, with the coaches not feeling like they have to consistently provide help for their left tackle.
Aside from his brother and his coaches, some are more skeptical about Kalil's play. Reality is, that comes with the territory.
"He picked a hell of a position to play. That would not be first on my list," Ryan Kalil said. "You've got to have some thick skin to play that position because week in and week out you play against the best of your best. And you've got to hope your team is up because if you get behind, you're in a whole lot of passing situations.
"I watched it here for years with Jordan Gross (Carolina's starting left tackle from 2004-13 who made three Pro Bowls). He gets praised one year, and the next year he doesn't have it and we need to get rid of him. But really he's the same guy, and the next year he goes to the Pro Bowl. A lot of it is riding the wave of your team. You've got be really good and have a lot of poise to handle that."
Matt Kalil believes he's up to the task of handling the criticism as well as the challenges that come with the job.
"Usually you don't want your name to get called. That's usually a good thing," Matt Kalil said. "If I make a bad play, everyone is on me, but if I play well, no one says anything.
"That's the kind of stuff I've got to deal with, but it doesn't really get to me. I just go out and play my game and get after it. Sometimes you get beat; sometimes you don't. You want to win more often than you lose."
You know Kalil wants to win Sunday.
View photos from the week of practice leading up to the Panthers' game against the Vikings.