SPARTANBURG, S.C. - On his final pair of field goal attempts during Sunday's training camp practice, Justin Medlock slid a 54-yarder just left of the goal post.
The left-footed Medlock responded seconds later by effortlessly nailing one from 53 yards.
Time to start another streak.
"Making all the field goals – that's the goal," Medlock said. "You want to make them all."
That's exactly what Medlock had done. Over the course of Organized Team Activities last month, he made every single field goal – ''40-something of 40-something," he said – and he hit his first six Sunday, all from 45 or more yards.
Since 2009, his misses have been few and far between, but they've also gone unnoticed by football fans in the United States. In 2009, Medlock made 40-of-46 field goals (87.0 percent). After spending most of 2010 on the bench, he made 49-of-55 (89.1 percent) in 2011.
Those seasons rank fourth and seventh all-time for accuracy – in the Canadian Football League.
"The CFL is the best thing that ever happened to me. I don't know if I'd be here without that because it got me back on the map," Medlock said. "But it also hurt me in a sense because like there was a time when the 49ers needed a kicker – a lefty. I'm a lefty from the Bay area, but I couldn't sign there because I was in the CFL. That was the wrong place at the wrong time."
That's often been the case for Medlock since the Kansas City Chiefs selected him in the fifth round of the 2007 draft following his stellar career at UCLA. He lasted one regular season game – making one field goal and missing one – and he's been waiting five years for his next NFL kick.
His luck could be changing. Medlock was perhaps hours away from signing a three-year contract to continue playing in the CFL when the Panthers - one of only a dozen NFL teams that hadn't contacted Medlock over the last five years – brought him in for a workout and signed him to compete with incumbent starter Olindo Mare.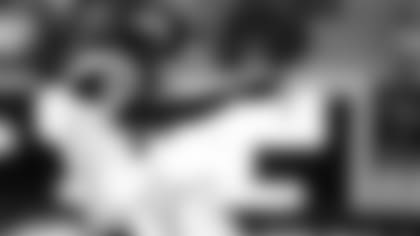 "It's crazy. In as little as 24 hours, I probably would have been back in the CFL," Medlock said. "We were negotiating and were probably within five thousand dollars. To think I was that close to going back to the CFL, that will be something to look back to if I make it in the NFL, because I would have been 31 before I got out of that contract.
"If I make it here, that will be a story."
Medlock was a first-team All-American for UCLA as a senior. The Chiefs drafted him, and within a month they traded Lawrence Tynes to the New York Giants to pave the way.
After Medlock's NFL debut, however, the Chiefs waived him.
"It was a bad thing to happen – my path would have been a whole lot different – but it's actually the best thing that ever happened to me as a kicker," Medlock said. "I needed to go through some downs before I went up, because I needed to learn that some of the stuff I was doing wasn't right.
"For a good three to five months, I was pretty messed up, didn't really know what was going on. I think every kicker has been like that at some point."
Coincidentally, Medlock began his long path back with the help of another new Panther – punter Nick Harris. Both are natives of the San Francisco Bay area, and Harris also was waived shortly after being drafted.
Harris, however, is now a veteran of 11 NFL seasons who is currently competing with Brad Nortman – the Panthers' 2012 sixth-round draft choice – for Carolina's punting job.
Medlock and Harris first crossed paths when Medlock was in high school and attended a camp that Harris – already an established NFL punter at that point – was working.
"He's a true professional when it comes to how to act on the field and off the field," said Medlock, whose relationship deepened with Harris during the offseason after the Chiefs released him. "I really learned from him, and that's something I really needed at the time.
"I really needed some guidance because I was going the opposite way with everything. I needed to simplify things and make things sharper."
Through the years, Harris has seen Medlock undergo significant changes – from a confident kicker in high school and college to an overwhelmed kicker as an NFL rookie and now to a fully matured kicker.
"When he first came out, he had all the tools, but as far as games and really being able to focus in, he's night and day from where he used to be," Harris said. "The Canadian league has really done wonders for him. He's become a student of the game. He studies the best guys in the NFL."
Medlock, now 28, is focused on becoming one of the best guys in the NFL. After talking to more than 20 NFL teams and working out for more than a dozen since the Chiefs cut him, he believes his time may at long last have arrived.
"I've had some unlucky things happen, but I'm ready to change my luck," Medlock said. "I haven't kicked a field goal in the NFL since 2007. Some people think, 'Whatever. He's been released a thousand times.' But from 2007 to now, I'm a whole different kicker.
"I feel like I can kick in this league."