CHARLOTTE – How much better can Panthers defensive coordinator Sean McDermott's unit become?
"Two spots better," Hardy said of Carolina's third-ranked defense. "We're going to keep climbing. We're hungry because Coach McDermott has put us in that mindset."
The 39-year-old McDermott, who has been an NFL coach since his mid-20s, is every bit as passionate as his players – not easy with the likes of Hardy in the locker room. That passion fits with the uber-aggressive approach he learned from the late, great Jim Johnson with the Philadelphia Eagles, but now McDermott is carving out his own style that his other mentor – Panthers head coach Ron Rivera – labeled as "situationally aggressive."
Whatever you call it, McDermott is dialed into putting the Panthers in the best position to play winning football on defense.
"He's a defensive guru," said linebacker Thomas Davis, named NFC Defensive Player of the Week after last Sunday's 35-10 victory at Minnesota. "It really boils down to playcalling. When the coaches put you in a position to make a play, then it's up to you to make the play.
"Our coaches have been doing that for us all season long, and now we're seeing the benefits. We're going out defensively and getting turnovers, just making plays when our number is called. We're getting off the field."
Most fans don't think about a defensive coordinator calling plays in the same way his offensive counterpart does, but there are similarities. McDermott made well-timed calls to send Davis on blitzes against the Vikings, but more subtly he found well-disguised ways to commit eight defenders to the box to bottle up running back Adrian Peterson while not tipping off the advantage it might create for Minnesota's passing game.
McDermott's approach prompted Hardy to call him the "offensive coordinator" of the Panthers defense.
"In Philadelphia, we were probably more pressure-oriented than we are here. But every week, we'll do whatever it takes to try to win the football game," McDermott said. "The players understand where they fit in the scheme, how they fit in the puzzle. The coaches also know what we're looking for. A good part of the staff has been together now for two-and-a-half years, and I've got a lot of faith in those guys.
"Then it's just a matter of guys doing their job and doing it extremely well."
The effect of continuity on a defense is something McDermott and Rivera have seen before. Rivera was linebackers coach for the Eagles from 1999-2003, coinciding with Andy Reid's first five years as head coach and McDermott's first five out of a 12-year tenure on the Eagles' staff in various capacities.
After winning five games in Reid's first season, the Eagles won 11 or more regular season games each of the next five seasons. The constant throughout the run was pressure defense.
"Jim Johnson's system is really complex," said Rivera, who borrowed from the system to coach three units to top-five rankings over his five full seasons as a defensive coordinator. "Jim was in Philly for 11 years and put a stamp on that defense, but there were guys there like Quintin Mikell (now with the Panthers) that knew it to the point that there really wasn't that much coaching needed. It's kind of like in Pittsburgh with Coach (Dick) LeBeau having a veteran group of guys that basically runs the show for him.
"Here, we're just starting to see that with Luke (Kuechly) and Mike Mitchell and with the defensive line working with Eric Washington and the DBs working with Coach (Steve) Wilks and developing that kind of rapport. As it goes, it makes us all smarter coaches."
When Johnson lost his battle with cancer in the summer of 2009, McDermott took over as defensive coordinator, a post he held for two seasons with mixed results. When the Eagles let McDermott go in January of 2011, Rivera quickly made him one of his first hires in Carolina.
"When Sean was in Philadelphia, a lot of it had to do with Jim Johnson. One of the things he and I have talked about is him having his own personality," Rivera said. "He's really, truly matured a lot in the two-and-a-half seasons we've been here, and the defensive guys are really starting to understand the complexities of what we're trying to do."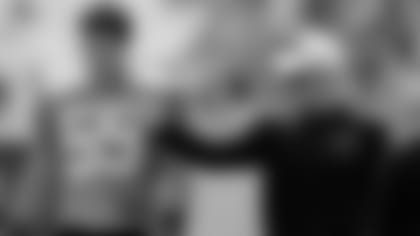 The Panthers ranked 28th in total defense in McDermott's first season with the Panthers but improved to 10th last season. So far this season, in addition to standing as one of three teams allowing less than 300 yards a game (299.2), they're second in scoring defense (13.6 points per game), fourth in red-zone touchdown percentage against (36.4 percent) and fifth in takeaways per game (2.2).
"I'm not a big stats guy," McDermott said. "The stats that are important are the ones that equate to winning football games – third-down defense, red-zone defense, takeaways, stopping the run. There are a handful of stats that we call 'critical stats' that equate to winning."
McDermott is the first to admit it's still a work in progress, but even if the defense continues to ascend, that will continue to be his message.
It's a message Hardy and Co. have fully embraced.
"Guys are buying into what he's saying," Hardy said. "He's got a strong personality. He doesn't back down. He believes wholeheartedly in what he does and the guys that he has.
"I feel like he coaches like he encourages us to play – with all your heart."