CHARLOTTE – The Panthers didn't get the result on the scoreboard they hoped for last week when they experimented with their safety rotation, but the outcome of one game and outlook for an entire season aren't the same thing.
Head coach Ron Rivera said he's encouraged by what veteran addition Michael Griffin showed and expects to see more of the same from Griffin and the group when the Panthers host Tampa Bay on Monday Night Football.
Kurt Coleman is the rock of the unit, having played all 67 defensive snaps in Carolina's 48-33 loss to Atlanta. Coleman, who set a franchise record for safeties with seven interceptions last season, got his first interception of the season against the Falcons – with Griffin on the field – and returned it for a touchdown.
Coleman played free safety opposite Roman Harper last season but had been at strong safety this season opposite Tre Boston. While Boston's 23 snaps Sunday came mostly on third downs at free safety, Griffin's 34 snaps were predominantly at strong safety with Coleman moving back to free safety. Colin Jones, who played 10 snaps, got the start alongside Coleman.
"We have a group of guys who each have their own personality and characteristics that can help us in some way," Rivera said. "Part of why we brought Michael Griffin in is that Kurt was very, very productive at free safety. That's a good tandem in terms of first and second down for us, and we brought Tre in nickel situations."
Boston, Griffin and Jones stand ready to play whatever role they're asked to - "I'm just doing what's best for this team," Boston said – and their biggest supporter is Coleman.
"I believe in all of my guys, in everyone that suits up for us," Coleman said. "Everyone is here for a reason, and we just have to make the plays when we're in a position to.
"We have what it takes. That's the most encouraging thing. It's not like we're thinking, 'Shoot, we can't match up with anybody.' We have what it takes here. We have the guys to match up with these teams. Our coaches are putting us in the right position to make plays. Now we've got to go out there and execute."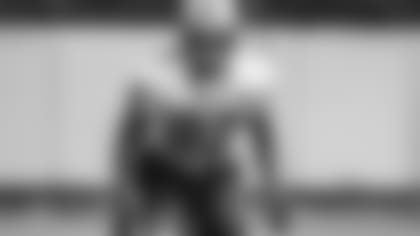 That's a sentiment echoed by Griffin, a two-time Pro Bowler who said he was surprised to play more than half the snaps five days after signing but who welcomes the challenge.
"I am the oldest guy in there, and we've got a lot of young guys in that room. I'm just encouraging the guys to get better each and every day," Griffin said. "This is a great team, a great group of guys. Guys work hard each and every day. There are no heads down right now, no hitting of the panic button.
"I'm still getting a good feel for the guys. I think I've got a good grasp of it, so I'm just trying to do everything the Panthers way."
Griffin could prove to be the latest of several safeties the Panthers have successfully brought in from the outside over the recent run of success. In 2013, when Carolina returned to the playoffs for the first time in five years, offseason addition Mike Mitchell and in-season addition Quintin Mikell paced the unit. Harper signed in 2014, and Coleman joined Harper last season.
"I just do whatever is asked of me, whatever job they want me to do," Griffin said. "It takes a team to win a football game, not one or two individuals. It's going to take a team effort. We've just got to stick together."
View photos from the Panthers' week of practice leading up to their game against Tampa Bay.