CHARLOTTE – For nearly a month now, the Panthers have been without Michael Oher, leaving one of the NFL's most demanding positions to Mike Remmers.
How has he held up? Quarterback Cam Newton offered a simple summary.
"We went from a Mike to a Mike," Newton said. "I feel very protected – let's just say that."
Two days before the Panthers began a three-week stretch of games against NFC South foes, with the week's preparations all but done, the team got a shock when Oher came to work complaining of concussion-like symptoms. He was placed in the protocol, and Remmers got tapped to make his first NFL start on the left side.
In Remmers' first three games at left tackle – and with a fourth looking likely as Sunday's game fast approaches – Panthers quarterbacks have been sacked a total of three times. In the first three games of the season, they were sacked 12 times.
Remmers in his new role and Daryl Williams taking over at right tackle has been a surprisingly seamless transition.
"He's played well," head coach Ron Rivera said. "You go back and look at the things that we've done offensively, he did a nice job when D.A. (Derek Anderson) had to play (against Tampa Bay), and did a nice job against Atlanta and against New Orleans.
"He's a solid football player that can does a lot of different things for us, and playing left tackle is one of them."
Remmers isn't quite as complimentary of himself.
"I know I can do better. It's been OK," Remmers said. "I've done the best I can and have just tried to improve each and every day."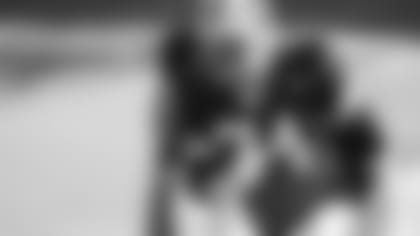 Remmers played right tackle his first three seasons at Oregon State before switching to the left side as a senior. Undrafted in 2012, he had played exclusively on the right side on the pro level, making 24 consecutive starts there before Oher was ruled out of Carolina's Week 4 game 48 hours before kickoff.
"With a little bit of short notice, I didn't get a ton of practice at the position, but I just tried to make the most of the time I had," Remmers said. "That first game, I learned a lot about myself and my technique. It helped me grow.
"I'm feeling more and more comfortable each day that I get more reps. That helps build my experience, and then of course playing in the games, that experience stacks up on itself."
That's not to say Remmers and his teammates don't miss Oher, who signed a three-year contract extension this past offseason after stabilizing the left tackle spot in 2015.
"I'm sure he's frustrated. He's a competitor," Remmers said. "He's one of the guys in this locker room that leads the charge. It stinks not having him here, but we know he wants to be here and that he will be here when he's ready."
In the meantime, Remmers will keep plugging along, headed toward perhaps his biggest challenge to date when 3-4 outside linebackers Chandler Jones and Markus Golden – who have already combined for 11 sacks – lead the Cardinals defense into Charlotte.
Remmers absorbed a lot of criticism from the media after Broncos outside linebacker Von Miller recorded 2.5 sacks on his way to earning MVP honors in Super Bowl 50, but his teammates consistently had his back.
Now, at a new position, Remmers is getting the job done in support of his teammates.
"It says a lot about his talents that he's versatile enough to move from right tackle to left tackle. That's not an easy task with what in my opinion is one of the hardest positions in football," five-time Pro Bowl center Ryan Kalil said. "He's done a great job. He's extremely athletic, smart and talented, and he just has a great attitude about everything.
"We asked him to move over and do some different things, and he does them without blinking an eye. He's gotten better and better."
View photos of the Panthers' week of practice leading up to their game against Arizona.