CHARLOTTE – When Julius Peppers arrived as a freakishly athletic rookie defensive end in 2002, he and Mike Rucker instantly formed a fearsome pass-rushing duo.
Peppers, who was later named NFC Defensive Rookie of the Year, recorded 12 sacks in 12 games, and Rucker posted 10. They were the only double-digit sack duo in the NFL.
The next season, when Carolina advanced to Super Bowl XXXVIII, Rucker posted a career-high 12 sacks while his young super star sidekick attracted the extra attention of offenses.
Rucker retired after nine seasons in 2007, and in 2010, Peppers left to spend four years with the Chicago Bears and three with the Green Bay Packers.
But they formed a special bond when they were teammates, and all these years later, you can count Rucker among those thrilled to see Peppers returning to Carolina.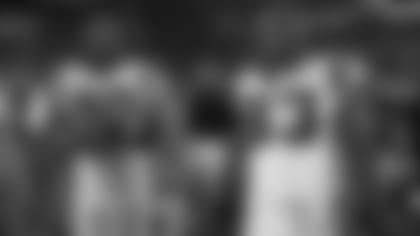 On what he thought when he heard Julius Peppers was coming back: "We played six years together and we've been through some great times. We've been through a lot. And he helped me grow. I don't know if he really knew this – but with his ability and him getting double-teamed, I needed to make sure that his sacrifice in taking that on wasn't for nothing. So that elevated my game.
"And after seeing him grow, I was really excited to hear he was coming back. I stayed in touch when he went off to Chicago and seeing him go to Green Bay. But understanding what will help a guy 15-20 years from now, this is the best scenario for him. I'm excited for him about that."
On if he always hoped Peppers would return: "This is one of the younger franchises, and we don't have like 50 years worth of players to draw back on. In our short time in the league, you've got some fan favorites and you've got some guys that have really stuck out. So you always want that connection and that relationship when they're done playing. To have that relationship, and seeing him back in the community, I always root for that for those guys who have been here for a long time."
On how impressed he is with Peppers' longevity: "It's crazy. Nowadays for a guy to play 16 years, that really turns your head. It's one thing to get to 10, but to get to 16? And to do it at a high level with impact in the sack category? That's huge. Usually you see that tail off. But he's still making plays, and that's the cool thing about his journey. Obviously, now he's number five on the all-time sack list, and that's huge. He'll continue adding to that this year. He's going to continue his legacy back here at home."
On when he knew Peppers was going to be an all-time great: "There are boxes that you check. When you have physicality, size and speed – well, he had checked those three when he went to his first minicamp. And to be almost 300 pounds at defensive end and be running guys down, you don't see that very often. He's got it all. You knew he was special. And to do it for 16 years, it's incredible." On if Peppers is the best athlete he shared the field with:"Absolutely. The sacks, the blocked kicks, the interceptions. I remember we had the package on goal line where they would put him in there. So much raw talent. That's him."