Comments from offensive coordinator Mike Shula after Carolina's 17-3 defeat at Chicago.
On not executing in scoring position: "We felt there were at least three drives that just felt like Carolina Panther offense. Here we go. We've got a good mix, we're running the ball and making plays on third down. A couple Cam runs. We just, we've had this at other times happen where it's just one or two plays get us into long yardage and we haven't been able to overcome. We've had a few extra second-and-longs and third-and-longs this year that are hard to overcome. It was frustrating because we felt like we had good rhythm, good balance. But just nothing to show for it."
On sustaining drives: "We have to find a way to get better and get it fixed and get those drives in the end zone. Can I put an exact finger on it other than staying out of the long yardage? We need to be better in those run downs of getting ourselves into second-and-6 or less, or third-and-6 or less, or making first downs on first or second down. We're not as far off as we think. It feels like we are. We all feel terrible. Then you throw on top of that the turnovers. Its stuff that we feel confident we can get fixed. We've got guys with some good experience and leadership and all that."
On Ron Rivera commenting that offensive scheme might be incorporating too much: "Yeah, we need to look at that. And that's a fine line too. You don't want to cut it down too much, but you want to make sure your guys are playing fast. We've had some moving parts, not to make an excuse, but it's something you've got to look at. You can have all you want (in the game plan) and feel like it will be good stuff, but if they aren't playing fast or not making adjustments that we need to make, then yeah, we have to make sure we do whatever it takes to get there."
On what he wants offensive identity to be: "It hasn't changed. We want to be able to have balance. Run to pass. Balance with inside runs, mid zone runs and outside runs – all that stuff we talk about. Misdirection, quick game, play action – have balance with all those things. Then you throw in the QB runs. The thing that is exciting about Christian (McCaffrey), what we felt teams had taken away, he gives us stuff underneath that maybe we hadn't had with the receiving ability. He doesn't take away from our identity, he adds to it. We haven't quite shown that. In a couple games we have where we were able to get points on the board and had teams off balance a little bit. But we just have to keep staying on the field, avoid the negative plays and obviously the turnovers."
On not having Greg Olsen and impact on others: "Greg is like another quarterback out there for us. We're trying to push the envelope a little bit with Curtis (Samuel) – for good reason. He's an explosive player. He hasn't had the practice reps going all the way back to OTAs. He is getting better and he's getting more reps in practice. We just have to get him more reps in games. Unfortunately the dropped option yesterday… But once he gets it, it is going to be exciting. There is nobody in our offensive room that doesn't feel the same way."
On Cam Newton's decision making: "Overall, he's better than last year I would say. We've had some unfortunate things on some interceptions – some have been miscommunication. Are there times where maybe he's tried to do too much? Maybe a little bit. But I wouldn't say like it was years past."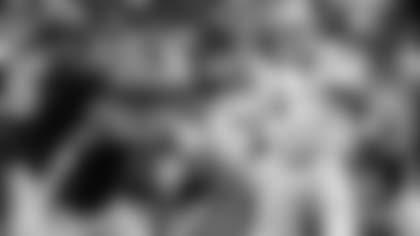 On facing eight players in the box, running the ball and whether Cam should check out of the run in those situations: "We've had some more split safeties, seven in the box looks, maybe more so than other years where teams have been hard, eight men in the box every single play. We've been able to still run the ball, but the point is still good. If they're going to load the box up, you don't want to throw it every down, but you need to have the ability to do that and take advantage of that. Some of those runs with Cam help offset that and I think it's a good balance. When we do have that, we try to design our runs and leave the eighth guy furthest away from the ball, which a lot of teams do. If we feel like it still isn't going to be good, then we need to get out of the play or give Cam the ability to change it. Whether that's on his own or check with me."
On taking praise when things are going well, criticism when it's not and how early he learned to deal with that: "My sophomore year in college. I've been so lucky to be around coaches that have great perspective, starting in my family. You got to go win, and sometimes even then you're going to get criticism. Our goal is to win every week and that's our No. 1 goal. You know that if you don't, there's going to be criticism, for good reason. That's what's great about sports, you have a bunch of fans watching the game and there's always opinions that come along with that – in any sport. You can't get caught up in that too much. Understand it, but my job is to stay locked in on getting points on the board."
On having worries about his job security: "I have concerns about our offense and getting points on the board."
On why he comes under fire from the outside world: "I don't think about that."
On if he's happy with the play calling: "We'd all be happier if they worked better. I'd be happier."
On offensive execution on run plays:"Whenever we do or don't execute, we do it as an offense."
On the team not picking up the big chunk plays in the past couple weeks of the season: "The two games on the road, we had some chunk plays there where we were throwing it. I would say early in the year it was Cam and having a lack of practice reps. We want to take shots and make the defense cover the whole field."
On criticism he took during his sophomore year of college: "I couldn't throw spirals. I was very inaccurate, except when I was throwing shovel passes."
On perspective Ron Rivera offers: "Like all of us are doing, stay the course and keep focused. Making sure we're giving the players the best chance to go win and know what to do. And also keep expectations high throughout the offense in that we're going to get it done. Having confidence in what you're going to do and if it doesn't happen, forget about it and move on."
On speaking with his father after games: "He's a dad first. He's been unbelievable all throughout my career. He's been a big fan and dad. He wants what's best and he gives good perspective. He always says, in your position as a coordinator, they're going to look to see how you respond. So make sure you respond good or bad, the right way."
On watching his Dad take criticism and how he felt: "We all felt bad when the Dolphins lost, but I used to love listening to his pregame talks, his halftime talks and postgame talks. His biggest thing was, it's never as bad as you think and never as good as you think. You just need to be able to handle that and show leadership throughout. Things change every week, more so now than ever."
On Christian McCaffrey and people that are discouraged by his production: "I'm extremely happy we have him and I would say he's a big part of our offense, and bigger and better things are to come. Where we're at in this season, we want to be better than where we are, but he's one of 11 guys on the field. Even yesterday he made some plays and I haven't been around guys who could make those plays."
View the top photos from Panthers at Bears by team photographer Melissa Melvin-Rodriguez.