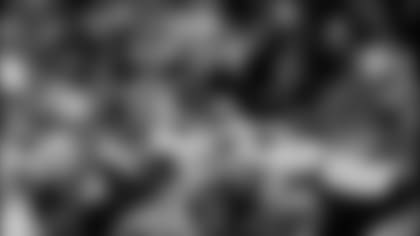 Quarterback Jake Delhomme. (PHOTO: STREETER LECKA / GETTY IMAGES)**
CHARLOTTE --Leadership is not simply about pointing a group in the rightdirection.  It also involves setting such a resplendent example thatothers will try and pick you up when you stumble.
That was the case for Jake Delhomme on Saturday night.
With five interceptions and a fumble, his performance in the 33-13divisional-playoff loss to Arizona was forgettable – but willnevertheless likely be a performance that he won't ever forget, for allthe wrong reasons.  He admitted that it was the most frustrating nightof his career, and that he was at a loss for words – a weightyself-assessment, given the quarterback's proclivity for banter anddetailed explanations that are as thorough as they are honest.
He was crestfallen and heartbroken – but his teammates had his back.
"Ifeel bad for Jake," said wide receiver Steve Smith, who was on thereceiving end of Delhomme's only touchdown pass. "You come so close,and you look at the opportunities we could have had and the what if's."
Butthis opportunity might not have happened at all without Delhomme'ssuccessful recovery from elbow surgery, a story that helped define acampaign that saw the Panthers post their best regular-season win totalin a dozen years.
"Jake's won a lot of games for us this year,"wide receiver Muhsin Muhammad said. "Of course, today didn't go the wayhe wanted it to.  It didn't go the way a lot of us wanted it to.
"I think that he's a winner.  He's a leader and he's one of us."
His head coach concurred.
"Jakehad a great year for us," John Fox said. "I told those guys to talk outof here with your head held high, just like I will.  It's not where wewanted to end up, but it's reality.
"I think Jake is a hell of a quarterback who had a rough night."
DELHOMME'S MOST FREQUENT TARGETSaturday was Muhammad, who finished the night with five catches for 55yards, wrapping up a season that saw him post his best numbers sincebefore he left for the Chicago Bears in 2005.
Muhammad, who has now completed 13 seasons in the NFL, didn't want to discuss what his future plans entailed.
"I'm still trying to walk out of this locker room after this game," he said. "We'll have to evaluate that when it comes up."
WITH A 10-POINT DEFICITin the second quarter and a 20-point chasm by the third, Carolina wasforced to turn away from the ground game that was so successful in thelast 10 games of the season – of which the Panthers won eight.
"When you have to catch up, you become one-dimensional," Fox said.
Asa result, Carolina ran only 15 times.  While the average was solid –5.0 yards per carry – the Panthers' attempts to crank up the groundgame in the second and third quarters, when the Cardinals increasedtheir lead from seven to 23 points, proved fruitless, as the Panthersran for nine yards on four carries – with three of the runs going forlosses.
That was a marked contrast from the first quarter, whenthe Panthers racked up 52 yards on only eight carries, averaging 6.5yards a pop.
"I think we are a better team when we're able to run the ball," Fox said. "We had some success early, but we fell behind."