MINNEAPOLIS - After Charles Godfrey suffered a season-ending injury in the Panthers' second game, Mike Mitchell moved over to free safety.
When Chase Blackburn assumed a starting linebacker role in Week 3, Thomas Davis moved over to weakside linebacker.
Technically, Mitchell and Davis vacated the strong safety and strongside linebacker spots in the process, but the versatile veterans were all over the field and stronger than ever in Sunday's dominant victory over the Minnesota Vikings.
"The good part about both of those guys is that they're both capable players that can move around and do some different things for us," defensive coordinator Sean McDermott said after Mitchell and Davis each received a game ball for their performances. "Plus, they study really hard, and the result happens on the field on Sundays. They've been very productive for us."
Mitchell, teaming with veteran Quintin Mikell to control things at safety, intercepted a pair of passes, including one on a promising Vikings drive to open the game. Davis, who stayed on the field whenever the Panthers went to their nickel package, recorded a career-high two sacks and led the team with nine tackles.
Both, however, credited their coaches and teammates for putting them in position to make game-changing plays.
"We went out and played great team defense," Davis said. "It really boils down to playcalling. When the coaches put you in a position to make a play, then it's up to you to make the play. Our coaches have been doing that for us all season long, and now we're seeing the benefits.
"We're going out defensively and getting turnovers, just making plays when our number is called. We're getting off the field."
That's exactly what Mitchell allowed the defense to do on the game's opening drive.
After the Panthers won the coin toss and head coach Ron Rivera decided to put the onus on his defense by deferring to the second half, the Vikings confidently advanced the ball inside Carolina's 40-yard line.
But that's when Mitchell intercepted a pass for the second consecutive week, basically playing center field on a Matt Cassel throw that sailed high into his waiting arms.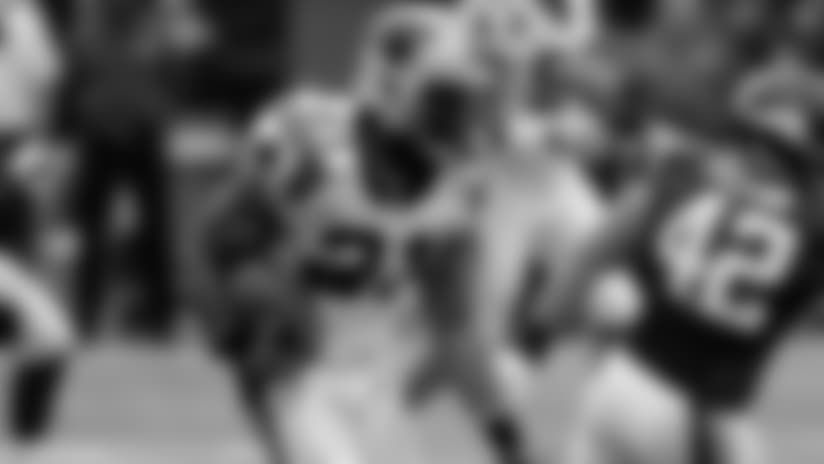 "Everybody did their job," Mitchell said. "Captain (Munnerlyn) was underneath, so the ball gets elevated, and there were so many balls overthrown because of our defensive line's pressure.
That interception led to the Panthers' first touchdown, and Mitchell recorded a similar pick early in the fourth quarter to set up the Panthers' fifth and final touchdown. In between, Davis was an unstoppable playmaker, making many of his plays on third downs when he was just one of two linebackers on the field.
On a third-and-7 early in the second quarter, Cassel scrambled and appeared to be on his way to a first down. But Davis closed fast and stopped him one yard short, forcing the Vikings to punt. The Panthers scored a touchdown on the ensuing drive, and they did the same in the third quarter when Davis' second sack gave the offense the ball back.
"The coaches did a great job of dialling up blitzes in those situations," Davis said. "I came free last week and missed the sack, so that was one of my focuses going in - to finish the play if I get to the quarterback or get to the ballcarrier. I was able to go and do that today, and we just did a great job as a unit of going out and playing great defense."
Just ask Adrian Peterson. When the Vikings' running back broke free for a 31-yard run late in the third quarter, it doubled the 31 yards he had mustered to that point on nine carries. And with the Panthers ahead by 25 points at that juncture, it was Peterson's last carry.
"That was critical," Mitchell said. "Adrian Peterson is the best running back in the NFL, so you've got to stop the run. Coach McDermott is a heck of a coach. His plan this week was just awesome. We got eight in the box almost every play, but he did it by getting different guys up there on each play."
Versatility is the name of the game for Davis and Mitchell. Davis technically switched from strongside to weakside linebacker in Week 3 but said he played both Sunday. Mitchell, a strong safety for the majority of his first four NFL seasons with the Oakland Raiders, played free safety for the third consecutive game, thriving in the first two alongside rookie Robert Lester and then making a seamless transition to working with Mikell on Sunday.
"When you have the continuity that we do right now in our third year, the players as a whole start to understand the big picture of how the defense is supposed to work," McDermott said. "They've seen it enough that they know what it's supposed to look like and who is supposed to do what, and if they end up at that position, they can do the job."