Like a lot of teams, the Carolina Panthers preach a "best available player" approach to the NFL Draft.
Mock drafters? Not so much.
Almost universally, offensive tackle is perceived as the Panthers' greatest position of need, so nearly unanimously, draft analysts are forecasting that Carolina will select an offensive tackle with the 25th overall selection.
But that's not how the Panthers operate. In 2012, for example, with virtually everyone predicting that Carolina would select a defensive tackle with the ninth overall pick, the team instead selected a player at a seemingly stacked position.
At this early juncture in the process, there are a handful of mock drafters guessing that the Panthers will pick something other than an offensive tackle in the first round. Here are their thoughts.
CB Marcus Peters, Washington
Todd McShay at ESPN.com
McShay has the Panthers taking Pittsburgh offensive tackle T.J. Clemmings in his latest mock draft, but in his latest "Top 32 Prospects" list, he has Peters at No. 25.
"Based on the tape, Peters is the best cornerback prospect in this class," McShay writes. "The concern with him has to do with his off-field behavior."
Peters was dismissed from the Huskies program midway through last season, and that no doubt will play into when he hears his name called at the draft.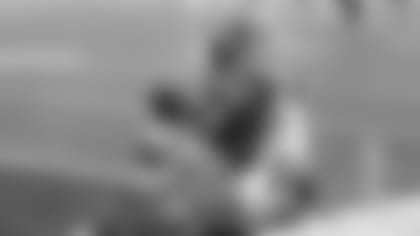 WR Devin Smith, Ohio State
Michael Middlehurst-Schwartz at USAToday.com
In a "Dueling Mock Drafts" series with fellow writer Steven Ruiz, it's no surprise that the duo forecast different selections for the Panthers. Ruiz targeted offensive tackle La'el Collins.
"A left tackle to protect Cam Newton would be the ideal pick, but that's a tall order this far back in the first round," they wrote. "Instead, the speedy Smith would give Newton a target who would contrast the massive Kelvin Benjamin."
Smith caught 12 touchdowns last season to help the Buckeyes caputure the national championship.
CB Jalen Collins, Louisiana State
Charles Davis at NFL.com
"Collins did not start a lot of games in college," Davis wrote, "but his length and athleticism create excellent potential."
Collins started just seven games in LSU's loaded defensive backfield in 2014, but he is a prototypical physical specimen (6-1, 203) who isn't shy about getting physical.
S Landon Collins, Alabama
Jeremy Igo at CarolinaHuddle.com
A local blogger who understands that "Gettleman practices what he preaches in picking the best player available," Igo likes the idea of selecting another Collins if he makes it to No. 25.
"Collins is a prototype Ron Rivera strong safety," Igo writes. "He punishes runners and has sound tackling technique. He is the best run defense safety in the draft, and as Dave Gettleman always says, you have to first defend the run to be able to rush the passer."