While a given NFL team's fan base might debate the NFL Draft as a whole leading up to those fateful days, most mock drafts focus on the first round.
There are some exceptions, however, and this week we'll dig deeper with a look at how some mockers see the Panthers approaching both the first round (No. 25 overall) and the second round (No. 57 overall).
Miami OT Ereck Flowers and Ohio State WR Devin Smith
Eric Edholm at Yahoo.com
This isn't a surprising approach in a two-round mock draft, forecasting the Panthers to focus on perceived position needs in both rounds, beginning with the one many observers consider the most critical.
Edholm says Flowers has some things to clean up but "he's a fiery competitor that can bring a dose of nastiness back to the Panthers up front." Of Smith, projected as Carolina's first-round selection in one recent mock draft, Edholm writes, "the Panthers would love Smith's vertical presence to help open things up underneath for Greg Olsen and Kelvin Benjamin."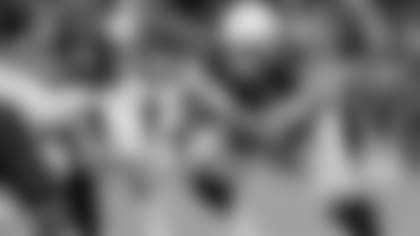 Arizona State WR Jalen Strong and Oregon OT Jake Fisher
Jeremy Igo at CarolinaHuddle.com
Igo presents another approach to shoring up offensive tackle and wide receiver, flipping the script by taking a receiver first. With the recent signings of tackle Michael Oher and wide receiver Ted Ginn, Jr., anything is possible in the first two rounds – which is what general manager Dave Gettleman aims for.
"At 6-2 and 215 pounds, Strong will remind many Carolina Panthers fans of a guy named Moose," Igo writes, referencing Panthers great Muhsin Muhammad. "Fisher isn't the physical stud that the first round tackles are, but he is a true football player. … Throw in the fact that he is accustomed to protecting a mobile QB, and this is a no brainer for the Panthers."
Florida OT D.J. Humphries and Oregon OT Jake Fisher
Dan Kadar at SBNation.com
"That's right, two offensive tackles for the Panthers," Kadar writes.
Think it impractical? Well, just think way back to 2013, when Gettleman and the Panthers took defensive tackle Star Lotulelei in the first round and defensive tackle Kawann Short in the second round. That has worked out well so far.
"A player like Humphries," Kadar writes, "could be the left tackle of the future in Carolina."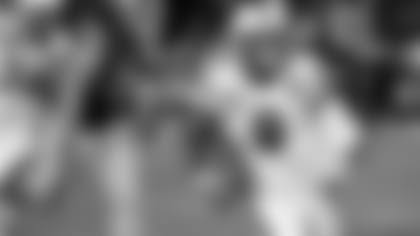 Louisiana State OT La'el Collins and Nebraska RB Ameer Abdullah
Charlie Campbell at WalterFootball.com
Campbell's prediction of Collins has previously been noted in Mocking the Panthers, but he brings another intriguing prospect into the mix in the second round. "Production" and "versatility" are buzz words surrounding Abdullah, the Cornhuskers' all-time leading rusher who topped 200 yards four times last season and is a threat to catch the ball out of the backfield as well as return kicks and punts.
"Abdullah (5-9, 205) isn't the biggest of backs," Campbell writes, "but he was a workhorse for the Cornhuskers."