Muhsin Muhammad played 11 of his 14 NFL seasons for the Panthers and remains one of the most accomplished, productive players in team history.
A big, physical wide receiver who was a second-round draft pick out of Michigan State in 1996, Muhammad went on to play 155 games in a Carolina uniform and is second only to Steve Smith in virtually every franchise all-time receiving category.
As a Panther, Muhammad posted 696 catches for 9,255 yards and 50 touchdowns – and the 85-yard touchdown pass he hauled in from quarterback Jake Delhomme in Super Bowl XXXVIII vs. New England remains the longest touchdown reception in Super Bowl history.
Now he's a successful businessman based in Charlotte who also helps mentor young Panthers when he can.
What have you been involved in with your financial services business?
"I'm a manager of a private-equity firm and it's going well. I've been doing that since I retired back in 2010. We own a portfolio called Wild Wing Café that I think a lot of people know about in the Southeast. We've got about 41 restaurants right now and we're still growing – and we're looking to make another acquisition and buy another company. I'm in the business of acquiring companies and great assets, and growing those businesses."
Obviously that keeps you busy. What else are you into?
"That and just being a family guy, taking care of my kids. I've got two in college, two in high school, two in middle school."
Where are the older kids in college?
"I have a daughter (Jordan) playing basketball for Princeton. And then my other (older) daughter (Chase) loves to cook, so she's going to Johnson & Wales right here in Charlotte. You can't do any better than Johnson & Wales if you love to cook!"
You also have said you love to travel. What's the most interesting place you've been able to go?
"Most recently we were able to go to Cuba. I just thought it was the most amazing country … great people. We had an amazing time, just visiting the countryside and seeing this country that basically was almost frozen in time in the 1950s.
"So I would say the most interesting places I've been are Cuba and then also Nicaragua. There we visited Masaya Volcano, an active, live, lava-flowing volcano. Peering over the edge of a live volcano was a little intimidating. So those are probably the two most exotic, exciting places I've been able to visit."
Looking back on your NFL career, what were some of the highest points for you?
"You know, my time here as a Panther … you almost can't even describe the memories you have. It's hard to pin down certain ones and say what's the best. They're all so special to me. They're like treasures.
"We had a lot of great times, played in a lot of really big games. And it was just a fun chapter in my life, to be able to be a part of a growing city, a new organization with high expectations – and just being part of a well-run, great organization.
"We had a chance to play in a Super Bowl. I'll never forget my teammates and being able to play with guys like Steve Smith and Stephen Davis, Jake Delhomme, Ricky Proehl. These were guys I bled with and sweat with every day and we accomplished some big things. It was a lot of fun."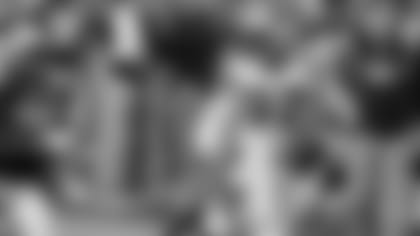 How was it to leave for a few seasons in Chicago and then be able to come back and finish your career here?
"Obviously I went to Chicago for a couple of years and got to play in another Super Bowl there (when the Bears lost to Peyton Manning and the Indianapolis Colts 29-17 in Super Bowl XLI), and then I got the chance to come back here and play again for my team here before retiring in 2010. That was all good.
"It's very difficult to try to describe the memories and how much fun it was during those years I played for the Panthers. Even in the bad seasons, we had some good memories. People don't remember them so vividly, but I even cherish the memories of bad seasons – because the bonds that you created going through the tough times, looking over your shoulder left and right, you knew you had a band of brothers who were going through the same situation with you. You learn how to fight and how to get through tough times, and emerge better on the other side of that. I value that. So I remember the good times as well as the bad times when I think of the memories of my time with the Panthers."
When you run into a former teammate you haven't seen in a while, what's that like?
"It's just like you're back in that locker room with them. The memories come flooding back. When you look back on things, some of it's comical. Some of it's not so comical. But at the end of the day, when we start telling people some of the stories of stuff that happened in the locker room or on the field, you quickly realize how much fun it was.
"They are memories that are special. They can never be replaced or forgotten. Every game that we played together was like finding hidden treasures, and I valued every relationship that I built during those times."
You recently were part of a group of former Panthers who met with and gave some valuable advice to the current crop of rookies trying to make the team. What was that like?
"For these guys to have some of the former players, leaders in the community, as resources and showing them that we've been where they're trying to get to – and that we have information that they can use to their benefit – it's just a great program.
"I think the guys get to see that maybe we're a little older, but we're just a slightly older version of themselves. It's like going to lunch with your uncle or something. It does a great job of trying to create that brotherhood and that sort of fraternal type of relationship between players from the past and players of today."