The phrase "football is family" is used often in the NFL. It may seem overused, but it is truly a way of life in this league. During pre-game warmups, players will gravitate toward each other on the field, share a hug, catch up, ask about family, hug again and go about their routine. The same goes for post-game socializing, which inevitably leads to jersey swaps with sentimental messages scribbled across the numbers. Post-game poses with friends from the opposite sideline is my most common photo request.
I was prepared to document quite a few reunions with the Bills coming to Bank of America Stadium. It started just as I would have thought, with running back Fozzy Whittaker walking over during warmups and leaping into former Panthers fullback Mike Tolbert's arms.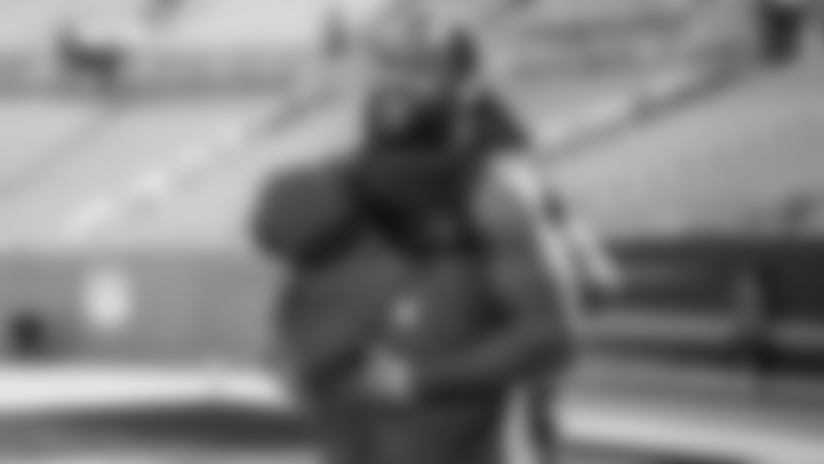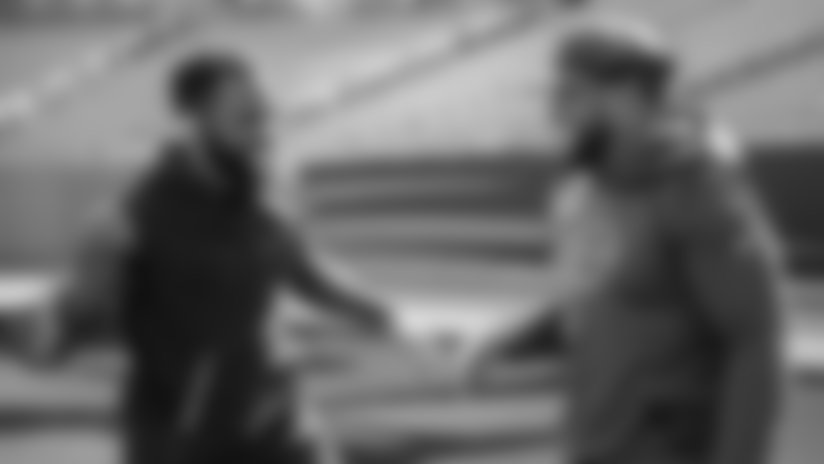 Fozzy commented on Mike's custom cleats, saying they had "sauce". Tolbert replied, "Man, you get me. I told my guy that I needed to come in here dripping sauce."
Wide receiver Kelvin Benjamin yelled "Tolb!" across the field trying to get Tolbert's attention, defensive end Charles Johnson joked around with him, and defensive line coach Eric Washington warmly embraced him. Needless to say, everyone was happy to see Mike Tolbert.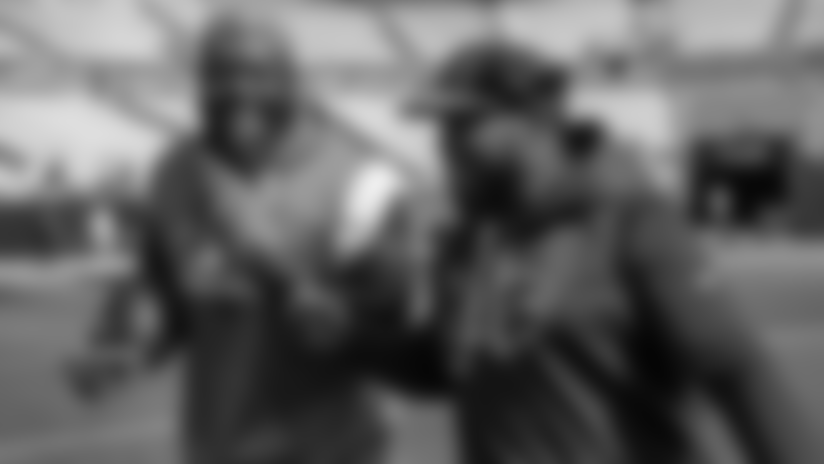 Luckily I turned around just in time to catch former Panthers quarterback Joe Webb and wide receiver Damiere Byrd excitedly greeting each other at midfield. I missed the exchange of their special handshake, but you can still see how incredibly happy they were to see each other.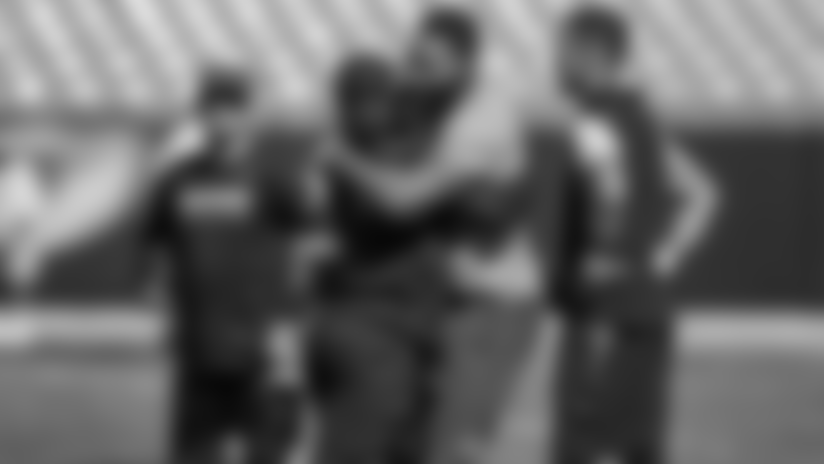 Matt Worswick, former football operations assistant (current assistant to the head coach in Buffalo), was always one of the hardest working guys behind the scenes for football operations and one of the nicest people you will ever meet. Very rarely do I see head coach Ron Rivera on the field during warmups, but he was out early Sunday, and one of his first interactions was with Matt. Head athletic trainer Ryan Vermillion also found Matt on the sidelines before the game, as did several players.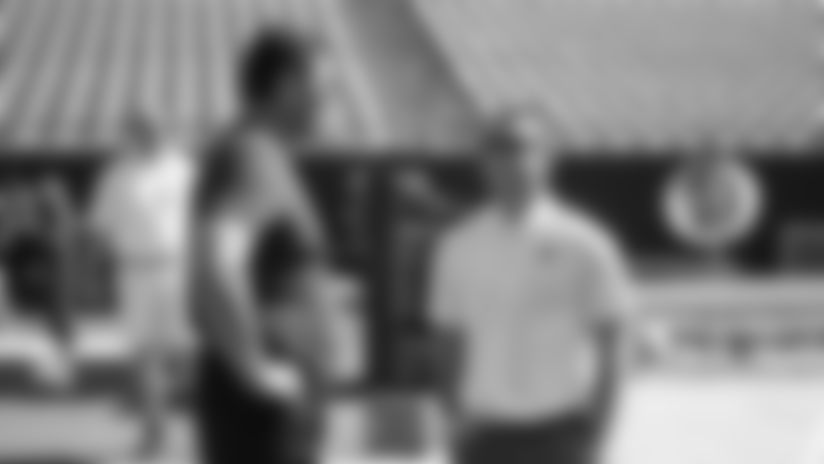 Two important interactions I was anticipating were between Coach Rivera and Bills general manager Brandon Beane and head coach Sean McDermott. After the coaches hugged, the Bills' team photographer, Craig Melvin (who was photographing the interaction from the other side) said, "That's' the money shot."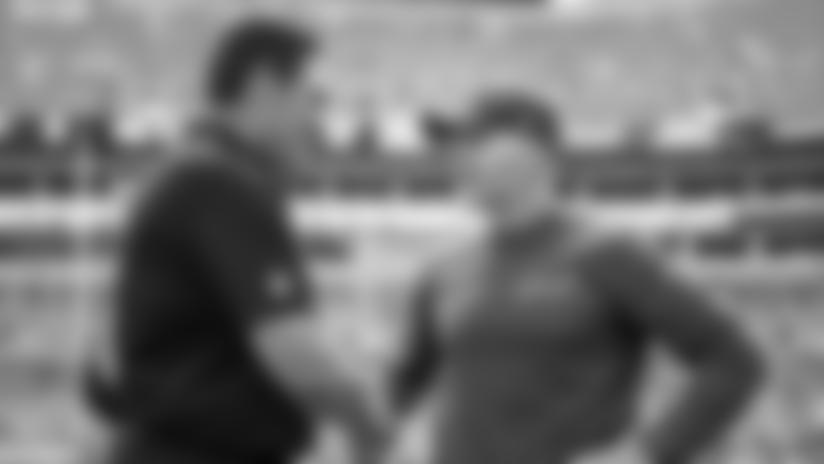 Before the game, in the small window of time before kickoff, in the small area of space at midfield between the two teams, I saw the main interaction I was waiting for: a giant bear hug between Stew and Tolbert.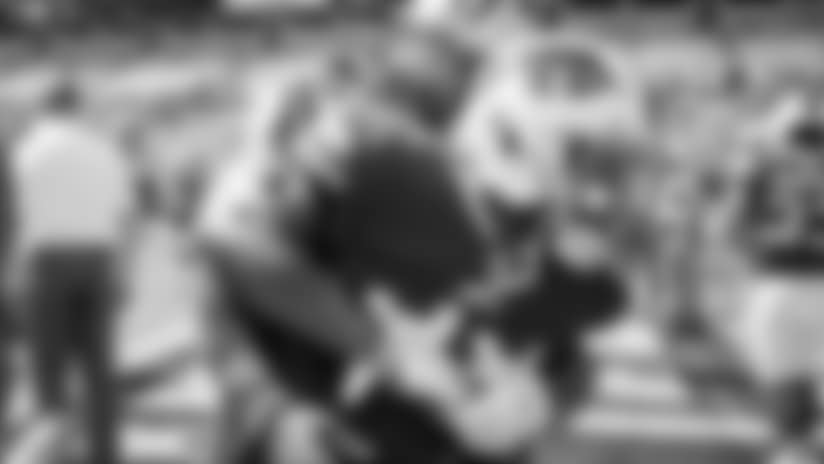 During this time, mini-reunions were happening every time I turned around. The bonds between teammates are quick to form and almost impossible to break. It is evident in the instant rapport, the body language, the sentimental taps to the head, and despite the three hours of battle on the field, they go right back to being friends after the final seconds tick away.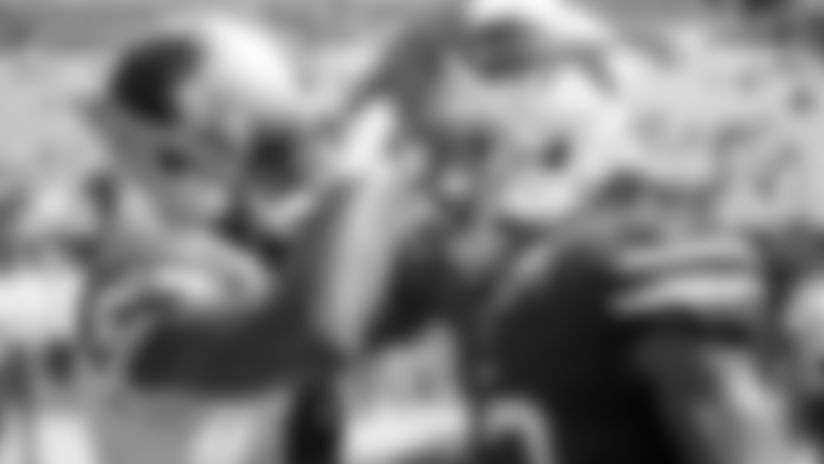 Sunday's game did not yield any touchdowns for either team, so there were no classic celebration shots, or "jube" (short for jubilation). But if you look at the faces of these players as they see members of their football family again, even if for a brief time, it is some of the finest "jube" you will find.