Panthers Owner/Founder Jerry Richardson, does not always travel to away games, but when he does I try to get as many as photos as possible of him interacting with guests, players and Panthers staff. I was given notice that he would be traveling to the game in New Orleans and I was asked to take a few photos of him with guests on the sideline before kickoff. When he arrived, I saw his cart make its way to the New Orleans bench, presumably to meet with team owner Tom Benson. Seeing the owner of a team out on the field is not always a given at a game, but seeing two of them sitting side by side having a conversation warranted me running across the field to make sure I got a few photos.
Richardson, Benson and Benson's wife, Gayle, sat closely, leaning in to speak to one another. The Saints' team photographer was nearby taking the same photos because these types of images are important for all clubs to have.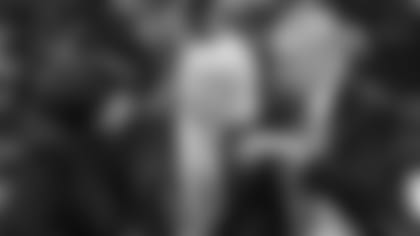 Once he finished visiting with the Bensons, Richardson made his way to the Panthers' bench, visiting with players along the way. I enjoy capturing interaction between Richardson and players because they provide genuine moments of mutual respect.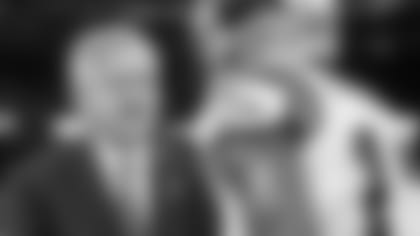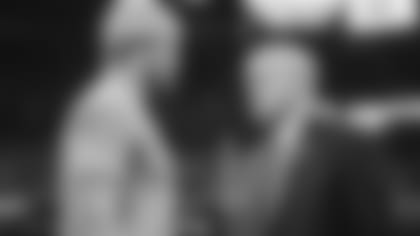 When the Panthers travel to New Orleans, there is an additional presence that I am always aware of and that is of former quarterback and Louisiana native Jake Delhomme. When Richardson reached the Panthers' sideline, Delhomme was the first person he embraced.
It is obvious to see how much respect and admiration resides between these two men.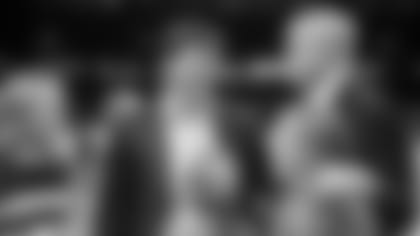 It was incredibly evident when Delhomme's wife and two daughters joined them on the sidelines. Richardson greeted Delhomme's family as if they were his own. After posing for a photo, they all chatted for a while. I kept my camera up and kept shooting. I don't know what was being said, but at one point Richardson was saying something to Delhomme's youngest daughter, making her and her sister laugh. In the midst of the laughs, you can see Delhomme looking at Richardson with such admiration and love.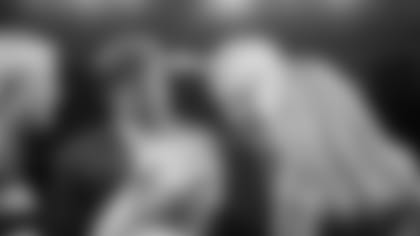 Sometimes you get lucky with photos with perfect timing and preparation. Other times, like this, you get lucky by having people to photograph who effortlessly create meaningful moments.