Sunday was undoubtedly one of the most eventful game days for every team in the NFL. As many team photographers who would be documenting their team that day, I was anticipating what would possibly take place during the national anthem. Would one of our players kneel? Would players link arms? Would other players who didn't kneel possibly show solidarity by placing a hand on the shoulder of a player who did kneel? Or would it be business as usual?
As you already know, Julius Peppers made a personal decision to remain in the locker room (he explains why here). All of the other Panthers stood as they typically do for the singing of the national anthem. As I watched them and took photos during this time, one player's body language immediately caught my eye: linebacker Thomas Davis. Normally, Davis has a hand on his collar and his eyes closed, head tilted back as he quietly sings along with the anthem.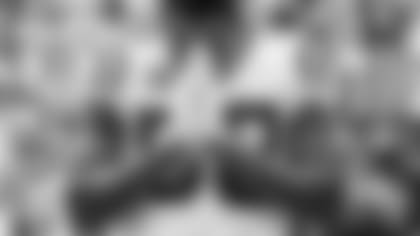 On Sunday he brought together two gloved hands to a bowed head, eyes closed, motionless. It was a striking image of a remarkable player. It also seemed to be an indescribably intense and personal moment. While I recognize the latter, it is still my job to document the players and create images that will continue to represent them long after they are finished playing.
Part of my post-game routine includes a couple of rounds of going through my entire take to see if I missed any images to edit. When I got back up to my office after the game, I immediately remembered the photo of Thomas and edited it to add to the "Best Of" gallery for the website. I thought it was a powerful image and wanted to share it, so I posted it to my Twitter account stating that it was my favorite image of the day. Thomas Davis caught wind and also tweeted the photo, stating that he was praying and would continue to pray.
As I read his tweet and looked at the image of Thomas, I could only imagine what he was praying for.