To provide a safer environment for the public and significantly expedite fan entry into Bank of America Stadium, the Carolina Panthers are implementing an NFL policy that limits the size and type of bags that may be brought into the stadium.
The Panthers strongly encourage fans to not bring any type of bags but have outlined what is permissible. Fans will be able to carry the following style and size bag, package or container at stadium plaza areas, stadium gates or when approaching queue lines of fans awaiting entry into the stadium:
• Any transparent plastic or vinyl bag no larger than 12" x 6" x 12".
• Small clutch purse no larger than 4.5" x 6.5".
• Seat pad that does not contain zippers, clasps, etc., and is not encased in vinyl.
• An exception will be made for medically necessary items after proper inspection at a gate designated for this purpose.
Prohibited items include but are not limited to purses larger than a clutch bag, coolers, briefcases, backpacks, fanny packs, cinch bags, luggage of any kind, seat cushions (see exception above), computer bags, camera bags, binocular cases or any bag larger than the permissible size.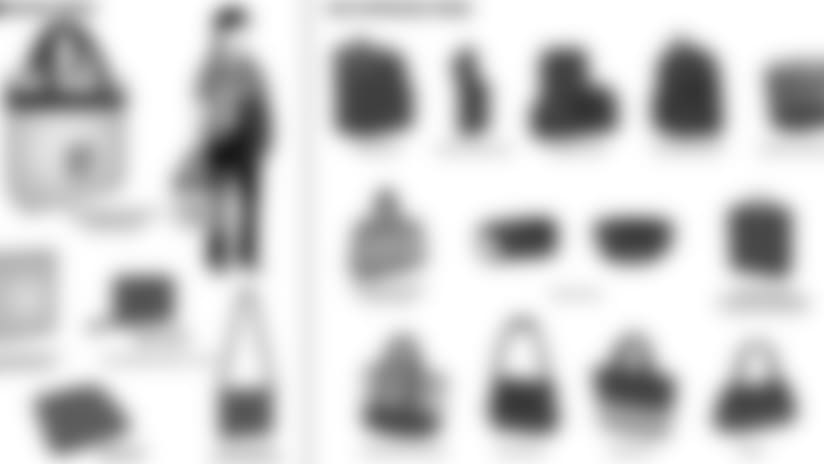 This policy affects the type and size of the bags that are permitted into the stadium - not the items one normally needs to bring to the game. Fans may still carry in their pockets items such as keys, makeup, phones, and wallets.
The North and East gates of Bank of America Stadium have been renovated to provide improved access with additional screening points of entry. For the most efficient, effective and quickest entry into the stadium, officials recommend the following:
• Arrive at the stadium gates 30 minutes earlier than you have in the past.
• Refrain from bringing items that require a bag check.
"In light of the emphasis on safety, the National Football League has incorporated these guidelines for fans," said director of stadium operations Scott Paul. "With the additional inspection access points that are being added at the North and East gates, we hope to make fan entry expedient and efficient."
In recent years the NFL and the Panthers have enhanced their already comprehensive safety plans with additional measures such as pat downs, bag checks and metal detectors. The NFL Committee on Stadium Security in May unanimously recommended this measure to enhance public safety and make it easier for fans to gain access in all stadiums.
"Our fans deserve to be in a safe and secure environment," said Jeffrey Miller, NFL vice president and chief security officer. "Public safety is our top priority. This will make the job of checking items much more efficient and effective. We will be able to deliver a better and quicker experience at the gates and also provide a safer environment. We appreciate our fans' cooperation."
This public safety measure is already being successfully used at other large venues. The University of Michigan, Penn State and Michigan State do not permit any bags. The pat downs and metal detector screenings of all individuals entering NFL stadiums provide an additional level of safety for fans. The limitations on bag size and style are a further enhancement for convenience and safety.