CHARLOTTE – Defensive backs Kevon Seymour and Demetrious Cox had hopes they'd be in action for the first week of the NFL regular season, but neither could have foreseen these circumstances.
Seymour was preparing for his second season with the Bills when he learned he had been traded to the Panthers. Cox was hoping to make Bengals' 53-man roster when the rookie learned Cincinnati had waived him.
Now, they're both trying to learn enough about the Panthers' playbook to be ready to suit up just eight days after their previous employment ended. And the Panthers need them to be ready given their own depth situation.
"Sooner than later, yes," head coach Ron Rivera said.
Tuesday, after the pair practiced for the first time as Panthers, Rivera suggested there's a good chance Seymour would be active for Sunday's opener at San Francisco. The 23-year-old has experience as both a nickel and outside corner, and with undrafted rookie corner Luke Cole dealing with an ankle injury, Seymour could be the primary backup for nickel corner Captain Munnerlyn and outside corners James Bradberry and Daryl Worley.
"I played a little nickel last year and on the outside, whatever they needed me to do," Seymour said of his rookie year in Buffalo. "I'm capable of doing it here."
Seymour, a sixth-round draft choice out of Southern California, has a year of NFL experience under his belt, playing in all but one of Buffalo's games last year, including three starts. He also played extensively on special teams.
This offseason, he had to learn a new defense under a new head coach, but that just happened to be former Panthers defensive coordinator Sean McDermott.
"They have a little ways to go in terms of learning what we do," Rivera said when asked about Seymour and Cox, "though Kevon coming from Buffalo has a little bit of a leg up on things because it's very similar to what we're doing. So that transition should be rather smooth."
Seymour said he has "kind of picked up the system already," saying he'll be ready come Sunday to play fast.
Rivera wasn't as direct about needing to get Cox up to speed as quickly, but he appears capable of helping at a position in need. The Panthers kept just three safeties on their initial 53-man roster – starters Kurt Coleman and Mike Adams and reserve Colin Jones. Cox is an undrafted rookie but is a versatile talent who was a team captain at Michigan State and had the Panthers' attention in college and beyond.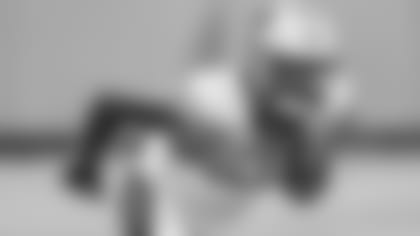 "In Demetrious Cox, we have a young safety who can play free and strong," interim general manager Marty Hurney said. "I thought he had very good preseason, and we had some good grades on him in college. I think he helps out depth there."
It was just one day, but Rivera was pleased by the pair on the practice field. That's a good thing because it's one day closer to the Panthers stepping onto the field of play.
"Demetrious Cox did a nice job today, showing good range and quickness as a safety," Rivera said. "Kevon Seymour has good size and good quickness, and he's a physical football player. I really like what I had seen on tape, and I really liked what I saw today."
View photos from the Panthers' week of practice leading up to their game at San Francisco.