SPARTANBURG, S.C. – Most people want quarterback Cam Newton to look back or look ahead.
Look back to his amazing MVP season. Look back to the Super Bowl defeat and the lingering disappointment.
Or look ahead to a rematch with the Denver Broncos in the 2016 season opener. Look ahead to a year with his No. 1 wideout healthy again.
But Newton prefers staying focused on the here and now – Spartanburg and his sixth NFL training camp.
"It's not about encores, it's not about looking back," Newton said. "I'm living in the moment right now.
"I've been counting the days just to get back with the guys."
Newton was busier than ever this offseason. His new television show on Nickelodeon was an exciting but time-consuming challenge mixed in with an already packed schedule.
"You just have to remember your day job," Newton said with a smile. "For me, it was very busy at times. But my trainer travels with me, and we found ways to stay ahead."
Now it's about finding ways to stay ahead of the opposition he'll face between the lines.
And for the next couple weeks, that opposition is the Panthers defense.
"We're not even worried about Denver right now," Newton said when asked about the looming opener. "This is training camp. We're not even preparing for Denver. When that milestone comes, then that milestone comes. There is so much that we have to worry about right now internally before we can start worrying about other teams.
"I'm just worried about facing Luke Kuechly every day."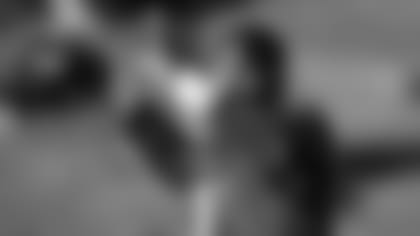 Newton said he's looking to improve his accuracy in the short game – a critique offered by none other than Owner/Founder Jerry Richardson.
"As Mr. Richardson says, the layups – the gimme throws," Newton explained.
"You know, you hear it often. Yeah, you can throw the comebacks and the digs, but what about the check-downs and slants? Getting back to the small nuances of the game that make a big difference."
Thursday night, as the Panthers took the practice field at Wofford College for the first time, Newton exuded the confidence and enthusiasm we've come to expect.
His performance from the pocket wasn't too shabby either.
"We were firing on all cylinders, and that's the way we want to start camp," Newton said. "We just have to find ways to keep it up and find ways to keep getting better."
View photos from Carolina's second practice of training camp.