CHARLOTTE – Quarterback Cam Newton is the reigning league MVP coming off a spectacular season in which he accounted for 45 total touchdowns as leader of the NFL's highest scoring offense.
But he believes his best is yet to come.
"I haven't peaked, I haven't climaxed as a player," quarterback Cam Newton said after minicamp concluded Thursday. "I always can find ways to take my game to the next level."
That's what head coach Ron Rivera has insisted all along, and Newton embraces the challenge. As we know, no one's expectations for Newton exceed his own.
"We always challenge each other," Newton said. "That's the great thing about having this type of team."
Wide receiver Kelvin Benjamin's return to action is one of the reasons Newton has a legitimate chance to be even better in 2016.
Newton and Benjamin have a strong connection, and they hold each other to a very high standard. As a rookie in 2014, Benjamin was Newton's go-to target, catching 73 passes for 1,008 yards and nine touchdowns.
Thing is, Newton was nearly unstoppable without having Benjamin as a weapon last year. Carolina's passing attack should be even tougher to stop with the No. 1 wideout helping the cause.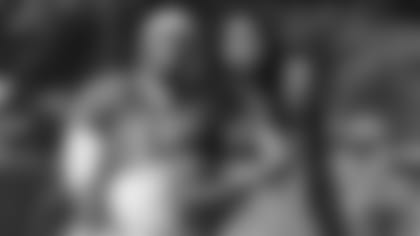 "Benji is coming back with a vengeance," said Newton, with Benjamin eventually lurking behind him during the interview. "We had numerous talks and still talk to this day about what we're expecting from each other. It's great to hear. But that's still potential. We have to do what we're capable of doing."
Benjamin did not participate in team drills during OTAs and minicamp, but Newton felt good about the offense's performance against the defense throughout the offseason program.
"We were doing some things like we were in midseason form some days. We just have to stay consistent," Newton said. "Everybody has to know at all times what to do. Everybody has to be on the same page."
Newton wants to ensure that takes place by meeting up with teammates during the break prior to the start of training camp.
"I'm here trying to get better and find ways to link up with my players in this offseason so that we can maximize our talents to start in playoff form come the beginning of the season," Newton said. "We do not need it, but we are all playing with a chip on our shoulder. That's our mentality."
Asked how he'll spend his time off before reporting to Wofford, Newton had a quick reply.
"Getting better," he said. "Finding ways to get better any way, shape, form or fashion."
View photos from Thursday's mandatory practice.