SPARTANBURG, S.C. – Wherever Cam Newton goes, screaming fans follow. And if there's an occasional lull, Newton will follow up with fans and get them screaming again.
When training camp kicked off Wednesday evening at Gibbs Stadium on the campus of Wofford College, Newton heard the cheers when he jogged onto the field and led the cheers while taking a quick breather between practice periods.
But when the Panthers lined up for their first 11-on-11 snaps of training camp, rookie Christian McCaffrey's first run got louder cheers than Newton's first pass. And that's actually a good thing, a sign that his first throw in a game-like situation since offseason shoulder surgery four months ago had the look of business as usual.
"I thought Cam looked very good," head coach Ron Rivera said. "He's been doing rehab since we broke minicamp, and he has progressed very well.
"He looked good. He looked strong and was very effective out there."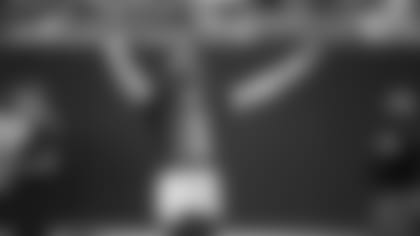 "Another step in the process,'' Newton said. "It's a start. Everything felt good, but we have a long way to go to get where I know we can be. Tonight was just fun getting out on the grass in front of the fans and throwing it around a little bit."
Rivera said Newton is on a "pitch count" in terms of how often he'll throw the ball in a given practice, an unfortunate necessity given that he wasn't able to throw passes to new teammates in a tweaked offensive scheme throughout the spring. In one practice, however, he did a lot to quell any fears about how his time off will impact the regular season.
"You could tell he was eager to get out there. I thought it was a good start," offensive coordinator Mike Shula said. "He's not there yet, and we wouldn't expect him to be. The thing he's got to do – and we've got to do collectively following our trainers and doctors - is not do too much.
"As a coach, you always want guys to get as many reps as they can, especially at that position. We are playing catch-up, but he has six years of experience, and that's going to have him caught up as quickly as possible. Our goal is to have him ready for Week One."
Shula said Newton isn't the only offensive weapon playing catch-up, and the other one that springs to mind certainly showed plenty of spring in his step Wednesday. McCaffrey, who missed all but one day of OTAs and minicamp because of an NFL rule regarding academic calendars, felt the love from the crowd that filled the stands when he got the ball a couple times early and zipped and zagged his way through the middle of the defense.
"I think his instincts show up on the field naturally," Shula said. "He is another one for obvious reasons hasn't been here, and he's got to get used to the timing, the speed and where he's got to be. But for the first day, we were pleasantly pleased."
McCaffrey certainly enjoyed the evening, both on the field and off it. He was among the first to reach the stands to sign autographs after practice and drew arguably the second-loudest applause from sections clamoring for him to come over. Top honors, of course, went to Newton.
"It's amazing, fans coming from all over to watch us at training camp. That means a lot, especially as a rookie," McCaffrey said between signatures. "And coming out here and playing football with your friends, it's a blast. That's what you play for. There's a lot of work to do, but I'm just excited to get out here and play."
View photos from Carolina's first practice at Gibbs Stadium.