CHARLOTTE – The Cam Newton Foundation will raise funds this season through its "Raise the Score" campaign, with donors pledging a contribution for every touchdown Newton scores.
"That's been a focus this week, getting down in the red zone and putting ourselves in a situation where we can score points – six points," Newton said. "It just takes a little bit of focus on my part to put the ball in places where my guys can have a chance.
"Offensively, we can't have self-inflicted penalties. We know that, and we're going to step up to the challenge come game day."
The Panthers fell short of that goal in their last preseason game, turning three red-zone possessions into three field goals in a 14-9 loss at the Philadelphia Eagles. Thursday night when the Panthers visit the reigning Super Bowl champion Baltimore Ravens, Newton and Co. want to make amends by making it into the end zone.
"Probably the biggest disappointment last week was that we got down into the red zone three times and only kicked field goals," head coach Ron Rivera said. "You want to score touchdowns. When we get down there, we want to score."
The Panthers were efficient in the red zone last season, ranking ninth in the NFL with touchdowns on 58.7 percent of their trips. The bigger concern was not penetrating the opponent's 20-yard line enough, ranking just 23rd in red zone trips with 46. When Newton was a rookie in 2011, Carolina reached the red zone 57 times.
Such numbers only really matter when Carolina loses. Even though Thursday's game technically won't count on the 2013 win-loss record, the Panthers want to win – especially with the starters slated to get more snaps than in any other preseason game.
"That's our mentality each and every game, not just the third preseason game," Newton said. "We have that mentality each and every time we put on the game jerseys.
"It's about executing each and every play offensively and coming together. It's the same for special teams and defense."
Newton said he's been pleased with the progress made day-by-day this preseason on offense, but he wants to see it manifest itself Thursday.
"I think we're doing well, but obviously this is going to tell a lot of things," Newton said. "What a challenge we have, going up against the defending world champs. A lot of guys are excited, especially myself. We can't wait for the challenge."
INJURY UPDATE: Several of Newton's targets will be out of action against the Ravens.
Wide receivers Joe Adams (calf), Armanti Edwards (hamstring) and Domenik Hixon (hamstring) won't play, nor will running backs Jonathan Stewart (ankle) and Mike Tolbert (hamstring).
The status of linebacker Jon Beason, who took part in his first preseason practice Sunday, hasn't been determined.
PRESEASON PRIMER: The Panthers have installed more of their offense and are prepared to show more – but certainly not all of it – against the Ravens.
"It's time to throw some of those things in and see how we do," Rivera said, who followed by saying the Panthers will show "enough."
Even though Carolina won't lay everything out on the table, center Ryan Kalil said the team's approach with the packages that it does feature will be much like a regular season game.
"The plays that are we calling, although not the entire playbook, are very much about getting us in the habit of how we will go about our week as far as studying and preparing," Kalil said. "The plays that we do call, we'll be calling them based on what we need to get and will adjust the calls during the game."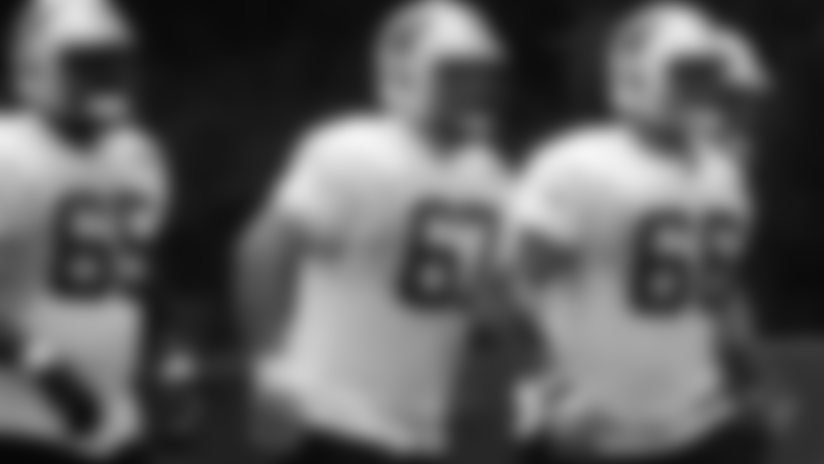 KALIL ON LINE: Kalil said he's pleased with the way the offensive line is coming together on either side of him.
"It's a group that's very dedicated," Kalil said. "We're working our butts off, and I feel very good about the direction we're going."
Left tackle Jordan Gross has started 31 games and right tackle Byron Bell has started 27 games over the past two seasons, but left guard Amini Silatolu is embarking on just his second NFL season. Garry Williams has just seven career starts at right guard, though six of them came in the final six games of 2012.
"Amini has come a long way since his first year," said Kalil, who missed the final 11 games of last season with a foot injury. "He's always been a very raw but talented player who is very strong and powerful. Now he's got that year under his belt, and you really get a sense of that experience.
"Gary, I've played next to before. It's just a matter of getting used to him again and vice versa."