CHARLOTTE – Despite a 6-3 record heading into their Monday Night Football matchup against the Miami Dolphins, the Carolina Panthers had managed to score four touchdowns in a game just once in 2017.
Then Monday, they scored four touchdowns in less than one quarter of clock time – and added a touchdown before and after the onslaught.
Along the way, the Panthers piled up a franchise-record 548 yards of total offense, breaking out in a big way while dispatching the Dolphins by a 45-21 count.
"I'd love to do that every week. That would be awesome," left tackle Matt Kalil said. "We've got a good thing going right now."
The Panthers already had a good thing going on defense before Monday night. Carolina entered the game as the league's best in terms of total defense and found itself in the running for a return to the postseason based largely on that side's strength.
Monday, at long last, the offense joined the party. The 45 points were Carolina's most in a game without the benefit of a defensive touchdown since Cam Newton was a rookie.
Back in 2011, on Christmas Eve, Panthers fans enjoyed a happy holiday when Newton broke the NFL's single-season passing record for a rookie, then threw a franchise record 91-yard touchdown pass, then took off for a 49-yard touchdown run in a 48-16 victory over the Buccaneers.
That team wasn't built for the postseason but showed signs that it was building something. This team is built for the postseason, and looked Monday like it could be building toward something special.
"We just want to keep it going," Newton said. "There's nothing saying that we've hit our pinnacle yet. There's nothing saying that we can't get better."
Newton rarely has been better than he was, but then again he's pretty much always been good on Monday Night Football. He's now 5-1 on Mondays and has thrown multiple touchdown passes in every single one of his appearances.
"We still wanted to treat it like any other game," Newton said, "but you know that America is watching."
Newton surely felt like all eyes were on him, when, late in the third quarter with the offense seeking a fifth consecutive drive with a touchdown, he took off on a 69-yard run. The play was spectacular but still fell four yards short of a new career high and 18 yards short of Newton's goal – the goal line.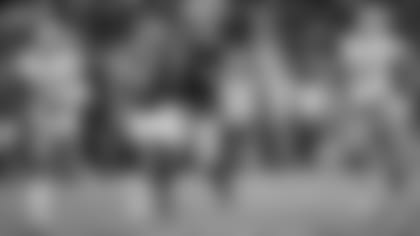 He said one of his best friends has long contended that Newton doesn't have the "skill set to break a 50-plus-yard touchdown. When I was running, all I was thinking was that one of the Dolphins players would just slip up, just trip, something."
Newton said when he got to his locker after the game, he was greeted by an "I told you so" text from the friend.
Newton actually does have a 50-plus-yard touchdown run to his credit, a spectacular 72-yarder against his hometown Falcons back in 2012. Monday, the Panthers didn't even need a single yard of Newton's 69-yarder to top 200 rushing yards for the game.
The 296-yard rushing night came on the heels of last Sunday's 201-yard rushing day against the Falcons, giving the Panthers consecutive games of 200 for the first time in franchise history.
"It's about establishing the run game, and then you can mix things up and get the ball moving," Kalil said. "Our emphasis the past few weeks has been focusing on finishing off our blocks and staying on guys, getting our backs to the second level to make big, explosive plays.
"We got Cam rolling, got the running game rolling, and everything went great."
Running backs scored three of the six touchdowns. Rookie Christian McCaffrey enjoyed the first multiple-touchdown game of his career – with a short-but-sweet run and short-but-sweet catch – and in between Cameron Artis-Payne crashed in from 12 yards out. Jonathan Stewart didn't find the end zone but found his mojo again, leading the ground attack with 110 yards.
Tight end Ed Dickson got rewarded for his weeks of solid service in Greg Olsen's stead with his first touchdown of the season, and Newton and wide receiver Devin Funchess hooked up twice for scores.
"It was just me and 'Fun' being on the same page," Newton said.
"It was a show to watch," Funchess said. "I hope everybody enjoyed it."