CHARLOTTE – At most of his Wednesday press conferences last season, Cam Newton referenced his goal to be 1-0 at the end of the week, often adding the victory he was seeking to the ones the Panthers had already claimed.
"I'm just trying to find ways to be 4-0," Newton would say.
Then 5-0. Then 6-0. And, eventually, 14-0.
Wednesday, Newton was reminded that it was his hometown team, the Atlanta Falcons, that finally put an end to Carolina's historic run.
"Last year is over with," Newton said. "I'm just trying to get to 2-2 – as crappy as that sounds."
Newton notoriously doesn't like to lose, and he sure doesn't like to lose to the Falcons. At this moment, Newton just wants to get back to his winning ways in the worst way, regardless of the competition.
It just so happens that the Falcons are up next.
"I'm just trying to win, that's it," Newton said. "We have to be better, including myself."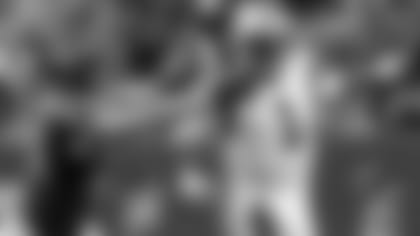 The Panthers are 1-2 entering Sunday's game at the Georgia Dome, far from a cause for panic but also far removed from last year's 15-1 season. Last year's flirtation with perfection, Newton said, actually wasn't a result of near-perfect play. It was more so about near-perfect timing, about overcoming adversity with well-timed answers.
The Panthers hope to answer that call Sunday against the 2-1 Falcons.
"It's not that we had any mistakes last year; we had a lot of mistakes. The fact that we were winning kind of blew it under the rug," Newton said. "But now that we're 1-2, it just feels like we can't get in a rhythm of winning. A lot of things have been magnified – from protection to errant throws to everybody's responsibility.
"What trumps that is when we just find ways to win football games. That's what it comes down to."
Specifically, Newton and his teammates on offense are seeking ways to improve the passing game. The Panthers protected their quarterback when they built an early 10-0 lead against the Vikings last Sunday, but Minnesota's pass rush soon cranked things up and recorded eight sacks while not allowing any more points.
"Pressure recognition and getting the ball out of my hand – that's what it comes down to," Newton said. "You have to take into account the things that they do, but it's really going to come down to us. Just like this past game, it wasn't really anything they did outside of us executing. We have to understand our role and take on a personal challenge to be better.
"If we do better, nine times out of 10 we put ourselves in the best situation."
Last season, the Panthers' effort was good enough more than nine out of 10 times in the regular season. The one exception was in Atlanta, when the offense couldn't keep the chains moving and the defense couldn't get off the field on third down in a 20-13 loss.
If Newton could have hand-picked the team to break up the undefeated run, the Falcons would have been his last pick. Newton grew up in the Atlanta area and dreamed of playing in the Georgia Dome. Sunday, he'll do so for the last time – just trying to be 1-0 at the end of the day.
"I have a lot of fond memories of the Georgia Dome. Growing up, if your high school team got to play in the Georgia Dome, it meant you were pretty good," Newton said. "I didn't have that opportunity, so my first opportunity was the SEC Championship. There was just so much emotion running through me, and there always is because when I get opportunities to go back home, there's a respectful competitiveness.
"Going to the corner store or going to get something to eat, people know who I am obviously and it's just fun. You want to make sure you have bragging rights."
View photos from the Panthers' week of practice leading up to their game against Atlanta.