NEW ORLEANS – When Cam Newton went down, everyone pulling for the Panthers held their breath.
Concerned teammates, coaches and trainers surrounded the quarterback after his left ankle got caught under the weight of Saints defensive end Turk McBride early in the fourth quarter.
"I was in shock because the way my ankle bent, it was irregular," Newton said. "I didn't know what was wrong."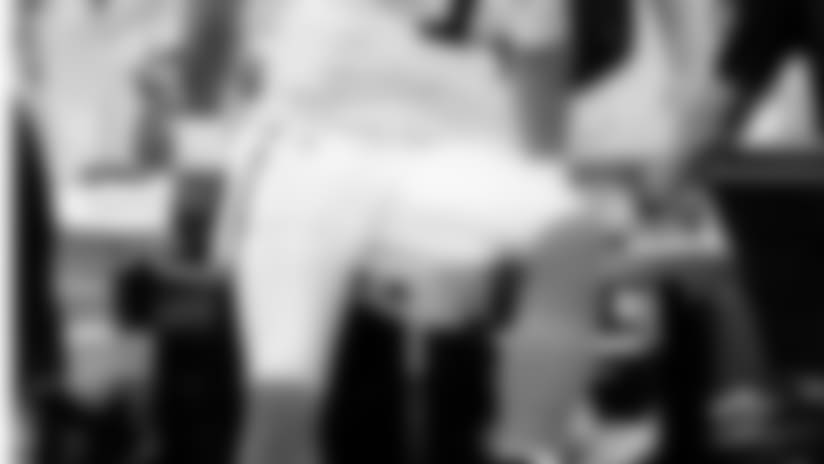 It was a sinking feeling for left tackle Jordan Gross, who was blocking McBride before he took Newton to the ground.
"My guy is the guy who hit him so I felt pretty bad, to say the least," said Gross, who was visibly emotional recalling the play.
Newton slowly walked to the trainer's table, where he was examined. Backup quarterback Derek Anderson stepped in for four snaps and called timeout prior to first down from the New Orleans 12-yard line.
With a heavily taped ankle, Newton trotted back to the huddle.
Panther nation collectively exhaled, and three plays later, Mike Tolbert's third 1-yard touchdown run extended the Panthers' lead to 34-24.
"Cam coming back in today was just awesome," Gross said. "It made my day."
Newton's ankle is one of two body parts that will be X-rayed following Sunday's 44-38 victory – a win in which he broke Peyton Manning's record for passing yards over the first two years of a career with 7,920.
He'll have his ribs looked at as well due to a hit he took from defensive end Junior Galette at the end of a 9-yard scramble on third-and-8 midway through the third quarter. Anderson replaced Newton for one snap.
"I got tackled and I can't remember what number it was – it had to have been a big guy. I fell on the ball and that hurt my ribs," Newton said.
The Saints swarmed Newton all afternoon. They recorded six quarterback hits and one sack, and Newton carried the ball seven times.
As a dual-threat quarterback, Newton does his best to avoid collisions, but he takes plenty of hits. He's always bounced back up, although Sunday's ankle injury looked at first like it would force him out.
"I've told him repeated times that he is a tough guy," Gross said. "Quarterbacks take a lot of hits, let alone when they run the ball, too. He gets back up every time. It's been so great to watch him grow as a quarterback.
"Cam has just continued to impress me this season with his growth, his leadership, his attitude, his play, his game management."
For a quarterback who has preached "finish" during the final stretch of a season with no playoff implications, Newton defined the term Sunday.
He finished both drives in which he suffered injuries. He finished the game in the victory formation. The Panthers finished their season with four straight wins.
"We could have easily said, 'Last game of the season, what the heck am I playing for? I just want to pack it up and play it safe.' We didn't do that today, and a lot of guys grinded it out and finished the game," Newton said.
"We have warriors on this team."