CHARLOTTE – Flags were furiously flying Sunday that had defensive players on both sidelines up in arms, left to wonder if there still exists such a thing as a clean, hard tackle.
Then, when Panthers quarterback Cam Newton complained about a hit that he deemed flag-worthy by the standards established earlier in the game, he too felt the wrath of the referee.
The difference between the two situations?
Newton could accept that he deserved to be penalized.
"I apologized to the referee. What I said was disrespectful," Newton said at the beginning of his postgame press conference following the Panthers' 17-6 victory over the Oakland Raiders. "I apologized during the game, but I would like to do so publicly. It was just in the heat of the moment."
Newton was heated when, on a pass attempt early in the fourth quarter, Raiders safety Mike Mitchell drove Newton into the turf. It didn't look particularly vicious to the naked eye, but that's what multiple defensive players for each team had thought when they were flagged.
And this hit – unlike a couple of the others that had resulted in penalties – came on a quarterback, much like an earlier situation when Panthers defensive end Greg Hardy was penalized for what looked like a textbook-form hit on Raiders quarterback Carson Palmer (albeit a hard hit that ended Palmer's day).
"Usually when you throw the ball they release, but that particular time I felt as if I threw the ball and he's still finishing the hit and drove me into the ground," Newton said. "Out of frustration and me seeing the umpire right there, I just questioned his decision not to throw the flag."
In the process of venting his frustration to referee Jerome Boger, Newton inadvertently made contact with Boger around the shoulder area as Boger moved in Newton's direction and away from another player close to them.
Boger threw a flag and announced an unsportsmanlike penalty against Newton, stating that he threw the flag for contact with an official. That violation is grounds for automatic ejection, but Boger said after the game that his explanation was inaccurate.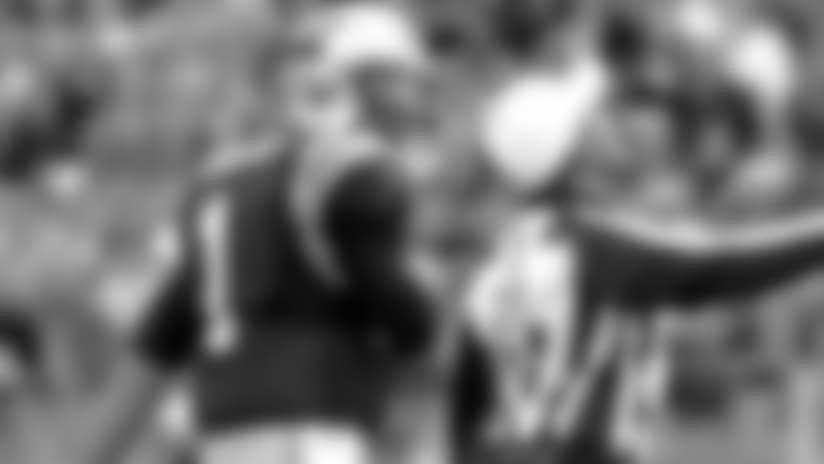 "I misspoke when I said he bumped the official," Boger told a pool reporter. "What I was penalizing him for was disrespectfully addressing the official. There was some contact between he and I, but it wasn't of a malicious nature. It was where I was moving away and when I stopped to confirm what he was saying we slightly brushed each other."
The penalty was the second of the day for extracurricular activity near Newton, with the previous one going in his favor. Late in the first half, after the Raiders recorded one of their two sacks, an altercation involving Newton and Raiders defensive tackle Tommy Kelly resulted in a personal foul on Kelly.
On that same drive, Raiders linebacker Miles Burris was whistled for unnecessary roughness following a catch by Panthers tight end Greg Olsen that sent Raiders coach Dennis Allen into hysterics rarely witnessed.
OK, so maybe not that rare. Panthers head coach Ron Rivera had been just as incredulous earlier in the half, when calls on Hardy and linebacker Luke Kuechly incensed him as well as the Bank of America Stadium crowd.
"I'll just say that I discussed a few," Rivera said when asked after the game if he disagreed with any of the calls. "They're going to err on the safety side. All we can do is go with it and see what happens and ask for explanations, and we'll get those and go from there.
"It's really a lot different (than my playing days)," Rivera continued. "I'm not saying that anybody cared any less about the players; it was just a different mentality. With the injuries that you see now, the league wants to be careful and take care of these guys."
Penalized players on both teams took a similar tact in their postgame interviews, admirable given that the situation has to be frustrating to no end.
Panthers linebacker Thomas Davis – a culprit or victim depending on your perspective of similar penalties in two earlier games – said the frequent flags do tend to take the edge off as would-be tacklers close in on ballcarriers.
That, in a nutshell, appears to be the goal as the NFL strives to protect its players.
So as hard as it might be to stomach, defensive players who no doubt feel defenseless at times might be best-served by adopting the approach that one of the players protected by the penalties will be taking after what happened Sunday.
"Sometimes you get 'em, sometimes you don't, so I just have to continue to control what I can control," Newton said. "Whether it happens for the good or the bad, you have to go and make the most of each and every play."