CHARLOTTE – Before quarterback Cam Newton took the field at University of Phoenix Stadium for his NFL debut two years ago, few knew what to expect from the Panthers' No. 1 overall draft pick.
That isn't the case heading into his return trip Sunday.
"Every week, you expect something great from him," head coach Ron Rivera said. "He's got that kind of ability."
Rivera, whose first game as a head coach coincided with Newton's debut on Sept. 11, 2011, had an understanding of Newton's unique skill set entering that game. But the Panthers were coming off a dreadful season on the offensive side of the ball, and Newton was coming off a pedestrian preseason performance.
But after totaling 300 passing yards over roughly eight quarters of preseason action, Newton came out on fire against the Arizona Cardinals, setting all sorts of records with a 422-yard day.
"It's a blur now," Newton said. "I just remember having fun and giving guys chances, and the guys made me look good."
Newton, addressing the media Wednesday, easily could have turned nostalgic about this weekend's trip to Glendale. Eight months before his dynamic debut, Newton led the Auburn Tigers to the national championship in the same building.
Newton, however, is much more focused on the present than the past.
"It's about leaving at the end of the day Sunday being 2-2 more than anything," he said. "And that starts today, as Coach Rivera says."
Newton actually started preparing for the Cardinals game and for his season going forward during the bye week. He spent lots of time in the film room with coaches and backup quarterback Derek Anderson, breaking down his own play to date and figuring out what areas he can shore up.
"Consistency. Ball location. Things I can control," Newton said. "We have taken some shots, and I feel like my percentage downfield can be better."
Newton's accuracy on the long ball was uncanny two years ago at Arizona. He hooked up with Steve Smith for a 77-yard score midway through the first quarter, then connected with Smith again before halftime for a 26-yard score.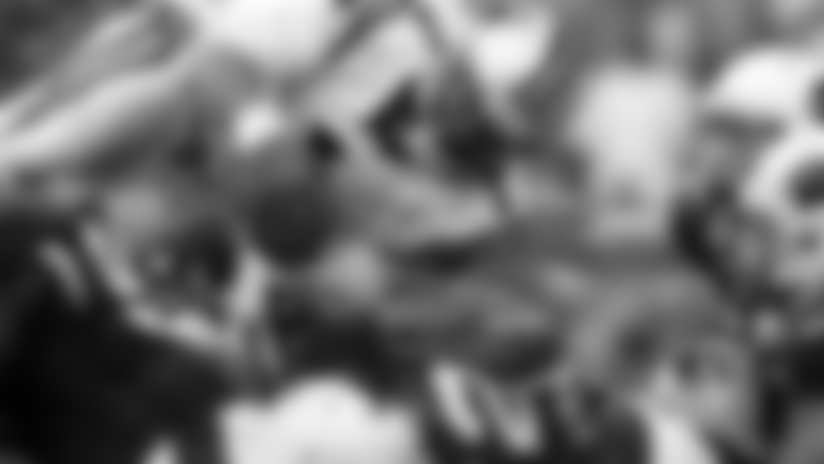 He later showed off his legs with a touchdown run late in the third quarter that gave the Panthers a 21-14 lead, but the Cardinals made a pair of big plays of their own down the stretch to rally for a 28-21 victory.
Newton has found success downfield in each of the last two games, hitting speedster Ted Ginn for a 40-yard touchdown in each. Newton has had other opportunities down the field that didn't result in completions, especially in a tough Week 2 loss at Buffalo.
But in Week 3 against the New York Giants, he cashed in on nearly every chance, throwing for three touchdowns and running for another. This time it was more than enough, as the Panthers rolled to a 38-0 triumph that lifted spirits following an 0-2 start.
Fans won't soon forget Newton's performance in his debut at Arizona two years ago, but Rivera would love it if fans look back two years from now and view Newton's performance against the Giants along with Sunday's return to Arizona as a turning point for the Panthers.
"He's learning, growing and taking steps," Rivera said. "The last game, that's what you'd love to see on a consistent basis.
"He's still morphing into the player that you hope he can be. I'm very excited about him and have a lot of confidence in him."