CHARLOTTE – Cam Newton, one of the most dynamic quarterbacks in the NFL, has signed a five-year contract extension with the Panthers through the 2020 season.
"It means so much," Newton said. "It's not necessarily settling in for me. I'm so grateful, so thankful for this opportunity."
Last season, Newton became the first player in NFL history to accumulate 10,000 passing yards and 2,000 rushing yards through his first four seasons. He has amassed 14,426 passing yards and 2,571 rushing yards by being productive every year, standing as the only player in league history to top 3,000 passing yards and 500 rushing yards in four consecutive seasons. His 33 rushing touchdowns are the most for a quarterback through four seasons in NFL history.
"He keeps getting better," general manager Dave Gettleman said. "He continues to ascend, and I still think there's plenty of room left."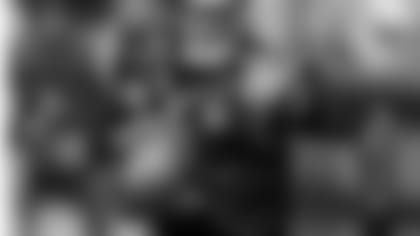 In April of 2014, the Panthers extended Newton through the 2015 season by exercising the fifth-year option on his rookie contract. In 2011, the Panthers used the No. 1 overall draft pick on Newton, who was fresh off winning the national championship and Heisman Trophy at Auburn.
The Panthers improved by four victories to 6-10 in Newton's record-setting rookie year, which began with him tying the NFL record for passing yards by a rookie with 422 and ended with him owning the rookie record for passing yards in a season with 4,051. He also broke the all-time record for rushing touchdowns by a quarterback with 14.
Head coach Ron Rivera, whose first season in Carolina coincided with Newton's rookie year, knew right from the start that he had his franchise quarterback.
"Day One," Rivera said. "I haven't wavered on that. That's who I've bought into and what I've also believed. I'm excited about what the future holds for us."
Carolina improved to 7-9 in 2012, when Newton became the first NFL quarterback to lead his team in rushing since 2000 and set a franchise record with 176 passes without an interception.
Each of the last two years, Newton has led the Panthers to the playoffs. Carolina went 12-4 in 2013 with Newton establishing career bests with 24 touchdown passes, an 88.8 quarterback rating and a 61.7-percent completion percentage.
Newton persevered through an adversity-laden 2014 season that saw him miss the first two games of his career to help rally Carolina to a 4-0 finish to the regular season that resulted in the Panthers becoming the first team to win consecutive NFC South championships.
"It just cemented what I felt," Gettleman said in regards to the challenging 2014 campaign. "He's gifted and he's a worker. It's important to him. That's why we did this deal.
"We believe he'll take us to the promised land."
And that's where Newton intends to go.
"My main focus," Newton said, "is trying to bring the Lombardi Trophy to the Carolinas."
---
Staff writer Max Henson and senior writer Bryan Strickland contributed to this report.