ATLANTA – Quarterback Cam Newton is among the "glue guys" that helped the Panthers stick together through a slow start to the season and Sunday's regular season finale.
Against the Atlanta Falcons, as has been the case a bit too often for Newton's comfort, the Panthers didn't seal it until the very end.
"Somebody in the locker room said, 'This team is kind of like duct tape. It's not pretty, but it gets the job done,' " Newton said. "For us to grind out a win like this today, it's a big morale booster and something we need going into the playoffs."
The playoffs won't begin for the Panthers for two weeks thanks to their 21-20 triumph over the Atlanta Falcons, a victory that earned Carolina the NFC South title and a first-round bye. The Panthers will host an NFC Divisional playoff at 1:05 p.m. on Sunday, Jan. 12, with a spot in the NFC Championship hanging in the balance.
Carolina can be confident in its potential to advance given Newton's ability to find ways to win. The offense got out of the gates slow for the third consecutive week, but for the third consecutive week Newton helped will the Panthers to victory.
This time, his legs played as big a role as his arm. Showing no signs of hesitation coming off an ankle injury that slowed him at times a week ago, Newton led the Panthers with a season-high 72 rushing yards on 12 carries.
"It worked out fine, but I can't keep making a living running as many times as I did," Newton said. "If the defense gives me that opportunity I have to take it, but on the whole, as an offense, we've just got to get better."
That certainly was the case when, five minutes into the second quarter, a brilliant 16-yard scramble represented more than half of the Panthers' total offense. The Falcons led 10-0 at that point, but the offense finally got moving and Carolina actually forged a 14-10 halftime lead with a huge helping hand from the defense.
Running back DeAngelo Williams turned a simple screen into a 56-yard gain but fumbled, and the Falcons recovered at the 4-yard line. But two plays later, undrafted rookie cornerback Melvin White intercepted a Matt Ryan pass and stumbled into the end zone for an 8-yard score.
The defense made life difficult for Ryan the rest of the way save for one drive, racking up a franchise-record nine sacks one week after linebackers Luke Kuechly and Thomas Davis produced 41 tackles to help knock off New Orleans.
"It's always great when you get a performance like that," said Newton, who called White's interception "an extremely big momentum shift."
"Last week, we saw Luke Kuechly and Thomas Davis have a performance like we've never seen before, and this week the defensive line stepped up to the challenge with key sacks that really elevated this team. Next game it might be another skill position or player stepping up to make a play to get us to a big win."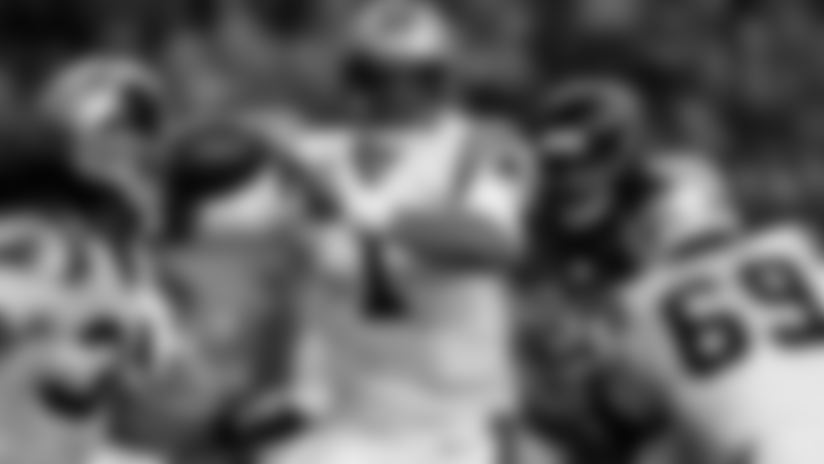 Newton responded to the new lease on life. He closed out the first half with a 96-yard march, capped by a 3-yard touchdown pass to wide receiver Ted Ginn for the Panthers' first lead with just 19 seconds to go.
"He stood up in the big-time situations," Ginn said. "It wasn't going well for us for a while, but he showed his leadership. He showed who he is – a champion."
The Falcons answered with a long touchdown drive of their own early in the second half, but Newton and Co. came right back. The running game – including a pair of third-down runs by Newton – set him up to zing a 7-yard touchdown pass to tight end Greg Olsen on third-and-goal.
The Panthers would never trail again.
"That's the hardest thrown ball I've ever caught. It was like he was a centerfielder crow-hopping, but that was really his only choice," Olsen said. "There were a bunch of hands in there. The window was tight, and he geared up and fired it. I'm just happy I was able to catch it."
And it was a happy day for Newton, who was playing in his hometown but playing for his adopted hometown.
"It's great. Our fans, Mr. Richardson, our coaches, Charlotte, North Carolina, South Carolina, anyone who wears Panthers colors proudly – we were past due for this," Newton said. "Now we know we have to seize the moment with the opportunities we've had. We're not done yet."