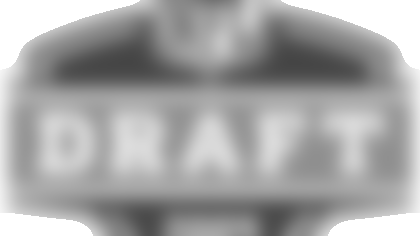 WHAT:** 74th Annual National Football League Player Selection Meeting.
WHERE: Radio City Music Hall, 1260 Avenue of the Americas, New York City (Between 50th and 51st Streets).
WHEN: 4 p.m. ET, Saturday, April 25, 2009 (Rounds 1-2) and 10 a.m. ET, Sunday, April 26, 2009 (Rounds 3-7).
The first two rounds will conclude on Saturday by approximately 10 p.m. ET. In 2008, the first round consumed three hours and 30 minutes and the second took two hours and 23 minutes. The draft will resume on Sunday at 10 a.m. ET for the final five rounds, ending at approximately 6:30 p.m. ET. Rounds 3 through 7 took eight hours and 33 minutes in 2008.
DRAFTING: Representatives of the 32 NFL clubs by telephone communication with their general managers, coaches and scouts.
ROUNDS: Seven Rounds - Rounds 1 through 2 on Saturday, April 25; and Rounds 3 through 7 on Sunday, April 26.
There will be 256 selections, including 32 compensatory choices that have been awarded to 16 teams that suffered a net loss of certain quality unrestricted free agents last year.
The following 32 compensatory choices will supplement the 224 regular choices in the seven rounds: Round 3: New England, 33; Cincinnati, 34; Chicago, 35; New York Giants, 36.
Round 4: San Diego, 33; San Diego, 34; Tennessee, 35; Indianapolis, 36.
Round 5: Pittsburgh, 33; New England, 34; San Francisco, 35; Dallas, 36; Tennessee, 37.
Round 6: Tennessee, 33; New England, 34; Dallas, 35; Cincinnati, 36.
Round 7: Tennessee, 33; Washington, 34; San Francisco, 35; Seattle, 36; Chicago, 37; Seattle, 38; Seattle, 39; Cincinnati, 40; Jacksonville, 41; Chicago, 42; Cincinnati, 43; Jacksonville, 44; Arizona, 45; Detroit, 46; Kansas City, 47.
Buffalo (numbers 11 and 28), Denver (numbers 12 and 18) and Detroit (numbers 1 and 20) have two selections in the first round. Carolina, Chicago and Dallas do not have first-round picks. All other teams have one first-round selection.
TIME LIMITS: Round 1: 10 minutes per selection. Round 2: Seven minutes per selection. Rounds 3 through 7: Five minutes per selection.
PLAYERS AT THE DRAFT: The following players will be at the draft at Radio City on Saturday: Texas Tech wide receiver Michael Crabtree, Wake Forest linebacker Aaron Curry, Southern California linebacker Brian Cushing, Kansas State quarterback Josh Freeman, Virginia tackle Eugene Monroe, Mississippi tackle Michael Oher, Texas defensive end Brian Orakpo, Baylor tackle Jason Smith and Georgia quarterback Matthew Stafford.
TELEVISION: NFL Network and ESPN/ESPN 2 will televise the draft on both days.