CHARLOTTE – Saints quarterback Drew Brees completed 69.4 percent of his passes for 465 yards and four touchdowns the last time he faced the Panthers.
He was sacked just once in that 41-38 New Orleans victory.
"Drew is a great quarterback," said safety Kurt Coleman. "He was able to find those holes, find those mismatches and find the mistakes that were being made on our defense."
Unfortunately for Brees, the Carolina defense he will face Thursday is far different than the one the Panthers fielded five weeks ago.
"I really do think we've evolved a little bit as a defense," said head coach Ron Rivera. "The defensive line has really stepped it up and done some really nice things, and hopefully we continue that trend."
Going into that Week 6 meeting at New Orleans, the Panthers had only 11 sacks in five games to their credit. Since then, Carolina has recorded 15 total through three contests.
But it's not easy to get to Brees, especially this season. The Saints' offensive line has yielded only 13 sacks so far, which ties for third-fewest in the NFL.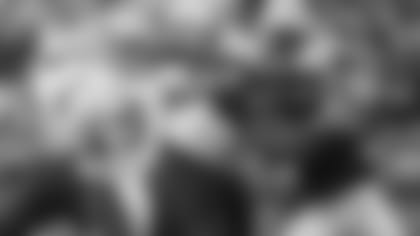 Defensive end Kony Ealy certainly respects New Orleans' efforts to protect to their star quarterback, but he believes their success in keeping Brees' jersey clean hasn't been all their own doing.
"It's not what I see from them, it's what I don't see from the defensive teams," Ealy said. "They give him too much time. You just have to do your job and get him off his spot. You have to make him see different things that make him feel uncomfortable."
Five of the Saints' nine opponents this season have registered fewer than 20 sacks all year. But in games against Denver and Seattle, tied for the second-most sacks in the NFL with 29, Brees was sacked just three times.
"If you can disrupt the quarterback and make him uncomfortable and get him off his spot," said defensive tackle Star Lotulelei, "it helps the backs and the whole defensive team."
Added Coleman: "I understand that we're really not getting the turnovers that we want, but I know we're really affecting the quarterback. The sacks come with the pressure. The pressure makes the quarterback get rid of the ball early and makes him throw into coverage that he may not want to."
Perhaps it is simply uncanny coincidence that Brees' 13 sacks is an almost exact double of his seven interceptions, but for a Panthers defense that has been pressuring the quarterback as much as they have recently, they'll play the odds.
"That's something you have to take advantage of," Coleman said.
View photos of the Panthers' week of practice leading up to their Thursday Night game against the Saints.