CHARLOTTE – Norv Turner was living the life.
After four decades in coaching, Turner spent the past year stress-free in San Diego.
So why come back to grind?
"I don't know if it ever gets out of your blood," the Panthers' new offensive coordinator said Monday. "I enjoyed the year off. I enjoyed watching football as a fan. You still look at it from a coaching standpoint, but I miss it. I miss being around the guys and players.
"But I did always say when people asked me, 'Are you going to coach again?' I'd say, 'It'd have to be with the right person in the right place.' And obviously Carolina fit both of those -- my relationship with Coach (Ron) Rivera and this team is an exciting team to be a part of."
The first part of the fit – Turner's relationship with Rivera from their four seasons together in San Diego – has been well-documented. The bigger unknown is what Turner will do with the guy who provides so much excitement – both realized and untapped – to the offense.
"There's nobody like Cam (Newton). He can really do anything you want to do," Turner said.
Can he? That's the most important question for the future of the Panthers behind who will next own the team.
Sure, Newton has broken all sorts of rushing records for a quarterback and he's had some success in the air. But many still aren't sold on his ability as a passer, due in large part to spotty accuracy during his seven NFL seasons.
That's where Turner comes in.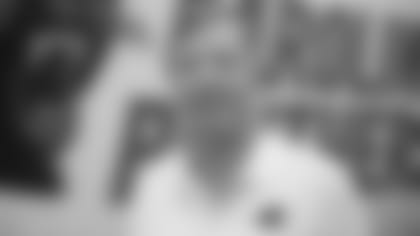 "I always think it's important for the quarterback when you're in the pocket, the things you're doing to be very quick with the ball, be specific, get the ball out, and I think that's where we can help Cam," Turner said.
"I think there's some technical things in the drop, in the vision, where you're looking, when you're looking that we can help and get the ball out quicker. We can help with his accuracy and then continue to find the things he does best and let him do those."
A hangup many have had with the hire is that Turner's résumé is full of success with pure pocket passers. That's clearly not who Newton is. But that also doesn't automatically make this a square peg/round hole situation.
"I was with Alex Smith in his second year, and we featured the things Alex did best – we ran naked (bootlegs), we ran quarterback draws, we did quarterback keeps and then we helped him improve as a pocket passer. He made a real transformation from Year 1 to Year 2," Turner said.
"I think that second year, people said, 'Wait, Alex – this guy is a No. 1 draft pick and will be an outstanding player.' So I wouldn't limit my experience to being a guy that has to stay in that pocket."
Turner's right about Smith's improvement. The top pick of the 2005 draft had a miserable rookie year with the 49ers, throwing just one touchdown with 11 interceptions. When Turner went to San Francisco in 2006 for his only season as the team's offensive coordinator, Smith threw 16 picks but balanced that with 16 scores. He also ran 44 times, the highest total of his first five seasons.
Turner's last stop was in Minnesota, where as offensive coordinator he worked for two seasons with quarterback Teddy Bridgewater. He's not nearly the same player as Newton, but Bridgewater also isn't in the same mold as some of Turner's other quarterbacks like Troy Aikman or Philip Rivers.
"We actually, at different times with Bridgewater, ran some of the Carolina stuff. It wasn't to feature Teddy as a runner, but it opened up running lanes," Turner said. "Teddy's first start, we used a lot of the zone-read stuff against Atlanta and really had a big game against them."
Bridgewater ran for a touchdown with a modest 27 yards on three carries that day against the Falcons, but the 317 passing yards he piled up remains the second-highest of his career.
Still, while you can find some similarities to Newton in Turner's past, this is a unique challenge for a football lifer. But for this to work, Newton needs more than coaching help.
"The way he's going to make the most improvement is we've got to get the people around him continuing to play at a higher level. And I believe that can happen because it's really a young group of receivers and that's where you make the big jumps," Turner said. "In Minnesota, we had (Stefon) Diggs and (Adam) Thielen. And every year we had them, you just watched them get better, and the product they are right now is pretty darned good.
"(Newton's) had a lot of changes at the receiver position the last three or four years. So getting those guys together and (working on) the same things over and over again so he knows what to expect and how guys are running routes, those type of things, that will help him."