CHARLOTTE – Head coach Ron Rivera is excited about the glimpse of the future he got from the team's drafted rookies at Friday's minicamp, but the future is now for the Panthers' 35 invited tryouts hoping to earn one of three empty spots on the 90-man roster.
"This is a really good group, probably one of the better groups we've had," Rivera said at the end of Friday's second on-field session. The Panthers will wrap up the camp with another practice Saturday.
"We've got a couple of spots to fill still, so a couple of guys could get an opportunity based on what they do tomorrow," Rivera continued. "We're trying to find out how quickly these players learn, what their skillset is athletically and whether they fit us. That's probably the biggest thing."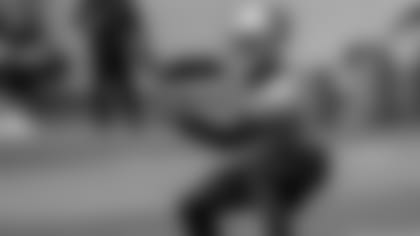 BLUE LOOKS GOOD ON YOU: While the majority of the tryouts realistically won't don Panthers uniforms again after Saturday, second-round draft choice Curtis Samuel is secure. Still, he savored putting on his jersey for the first time Friday.
"I love the color," Samuel said. "That was the best part of my day, putting it on and realizing I'm an NFL player now."
Samuel got a few chances to flash his 4.31 speed but more importantly showed that he's already getting up to speed on the playbook, allowing him to play faster still.
"It was great. I thought everything went really well today – a lot of guys putting in hard work," Samuel said. "We're all just trying to get better, and we have coaches that are helping us get there."
SPEAKING OF SPEED: While Samuel will be one of the fastest receivers in the NFL next season, tryout Marvin Bracy thinks he could be the fastest receiver in the league – if he can make his way into the league.
"I feel like I'd be the fastest guy probably in the NFL, next to John Ross," Bracy said. "That guy is pretty fast."
While Ross, now a rookie with the Bengals, recently broke the record for the fastest 40 time in the history of the NFL Scouting Combine, Bracy is one of 50 U.S. sprinters to ever run under 10 seconds in the 100-meter dash. Bracy made the U.S. Olympic team in 2016 and barely missed making the finals in Rio, and now he's trying to make a comeback in another sport where speed is valuable.
Bracy was a highly touted wide receiver coming out of high school. He redshirted as a freshman at Florida State in 2012 and then decided before the 2013 season to leave the program in order to focus on track.
He just began his return to football this past offseason, garnering some attention at Florida State's pro day. By the end of his first day of minicamp, Bracy had the defensive backs' attention.
"Getting out there on one-on-ones, that was fun. They weren't really respecting my speed at first, but then they got it when I was running by guys," Bracy said. "Football is fun. It is a lot different than what I've been through, but it's fun to be around guys that share the same team and to compete against and be encouraged by guys who were first-and second-round picks."
View photos of the Carolina Panthers during the first day of Rookie Minicamp.