CHARLOTTE – After not allowing a single quarterback hit or pressure in the season-opening win against Tampa Bay, Byron Bell felt pretty good about his first career start at left tackle.
"I know what I'm capable of, and I felt good. My first start at left tackle at an away game – it's something I can build on," Bell said. "But I put that game behind me and I'm moving on."
That's been Bell's mindset since securing the starting left tackle spot – good or bad, move on quickly.
His attention has shifted to his Week 2 assignment, which features an aggressive, disruptive Lions defensive line that will look to get after quarterback Cam Newton, who is overcoming ankle and rib injuries.
"We all know about his (nicks and bruises), because he is the franchise guy. That's the talk around the city," Bell said. "If he's 100 percent or not, it's our duty to keep guys off him. I feel like if guys do hit him he's going to bounce up and he'll make plays. That's why they call him Cam Newton, Superman. He'll be fine.
"He's looked good sliding in the pocket and making plays. I'm happy to see him back."
PRACTICE REPORT: Running back DeAngelo Williams sat out Thursday's practice due to thigh soreness.
"We gave him the day off today, and we'll see how he responds to everything," head coach Ron Rivera said. "I think it was just an accumulation of fatigue. Hopefully, he'll be out there tomorrow."
Tight end Greg Olsen left practice to attend to a family matter regarding his son, T.J. who recently underwent his third open heart surgery. Rivera fully expects Olsen to play Sunday.
"We said a prayer for him and, hopefully, it works," Rivera said. "He'll be back here tomorrow ready to roll."
Defensive end Greg Hardy returned to practice after missing Wednesday's session for personal reasons.
"Greg practiced very well, and he's fine for Sunday," Rivera said.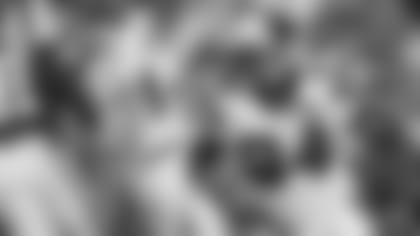 DICKSON'S ROLE DEVELOPING: Tight end Ed Dickson didn't record a catch in Week 1, but Rivera said the first-year Panther will get plenty of opportunities as the season goes on.
"He does exactly what we need," Rivera said. "He brings a little more of a vertical threat that we haven't had in a while. I can see us using him in more situations.
"The game plan was for him to play even more than he did (versus Tampa Bay). Sometimes things take you in those directions. He was a part of the game plan, and he'll be a part of the game plan this week and in weeks to come."
PRIME OPPORTUNITIES: Panthers fans had a chance to watch the Lions on Monday Night Football, and they'll get similar chances to see upcoming opponents in primetime beginning tonight.
Week 3 opponent Pittsburgh visits Week 4 opponent Baltimore on Thursday Night Football. Week 5 opponent Chicago is on Sunday Night Football this week and Monday Night Football next week, and Week 6 opponent Cincinnati will play on Sunday Night Football a week before hosting the Panthers.