CHARLOTTE - Head coach Ron Rivera believes the threat created by having wide receiver Philly Brown's speed on the field is paying dividends for the Panthers offense.
Time will tell if Brown will be on the field the next time the Panthers play.
Brown suffered a sprained shoulder in Sunday's victory over the New Orleans Saints and will be "day-by-day" according to Rivera. Linebacker A.J. Klein's status is also unclear after he suffered a sprained knee, though it sounds like neither injury is considered serious.
"We'll see how they both react tomorrow morning after all the treatment they got today," Rivera said. "Then Wednesday morning we'll see how they are."
Offensive lineman Amini Silatolu will likely miss his third consecutive game when Carolina hosts the Tampa Bay Buccaneers on Sunday. Rivera said that Silatolu, who was slated to start at right tackle versus Minnesota in Week 13 before injuring his knee in practice, underwent a "little scope" on the knee last Monday.
"Amini is going to be out awhile as he continues to rehab," Rivera said.
Silatolu said he's hopeful that he can return for the Panthers' home finale Week 16 versus the Cleveland Browns.
RUNNING PLANS: Even before mentioning Silatolu's surgical procedure, Rivera said the Panthers planned to start the same five along the offensive line for the third consecutive game against the Buccaneers.
Rivera thought the stability up front helped quarterback Cam Newton and the offense in New Orleans, and it certainly helped the running game. The Panthers recorded a season-high rushing total for the second consecutive week even with running back DeAngelo Williams sidelined, a 271-yard day highlighted by 155 yards for running back Jonathan Stewart and 83 more for Newton.
"Mike Tolbert (62 total yards) ran the ball well, too, and Fozzy Whittaker (31 total yards and a touchcown) did a nice job when he got opportunities," Rivera said. "That was a good mix, a good blend."
Williams, who has started all six games he's played this year, will be in the mix when he returns from a broken bone in his right hand. Rivera wouldn't say who would start when Williams returns even with Stewart's strong showings of late.
"My preference. That's the only reason," Rivera said. "DeAngelo is a part of who we are. We'll see. We'll see how it is. It will be a day-by-day process with him. As the hand gets stronger and heals up, we'll go forward."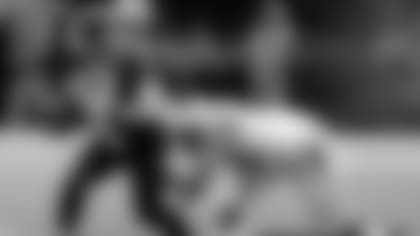 CHARLES IN CHARGE: Defensive end Charles Johnson couldn't extend his streak of games with a sack to three, but Saints quarterback Drew Brees was well-aware of Johnson's presence.
"When you watch the tape and see his impact on the game and how he influenced the quarterback, hats off to Charles," said Rivera, who counted five quarterback hits and four quarterback pressures for Johnson. "I wish he had gotten one, two or three sacks because he deserved them, he earned them. He played his butt off and did the things you expect from a guy of his presence.
"He's played that way the last four weeks. He's doing some really good things right now."
Johnson has recorded a sack in three of the last five games. The two times he didn't were Sunday and in Week 10 at Philadelphia, when he was credited with seven quarterback pressures.
"He's coming off the football," defensive coordinator Sean McDermott said. "He's decisive with what he wants to get established early in the game, and that opens up things for him later in the game. Anytime you play fast and physical, good things happen."