CHARLOTTE – Considering how much time he had to spend nursing a hamstring strain, the sight of rookie wide receiver Curtis Samuel limping into the locker room Thursday night was particularly concerning.
But fortunately for the second-round pick, his ankle injury doesn't appear serious.
"I know I'm going to be back and ready (for Week 1)," Samuel said. "Oh, I definitely will."
The starters got the night off against the Steelers, but Samuel got some much-needed work in the preseason finale. He caught two passes for five yards and flashed his ability as a returner, fielding two kicks for 51 yards.
His second return – a 34-yard effort – brought the crowd to its feet, as he burst through a seam and came close to breaking it open.
"Curtis showed us his speed, his quickness, his ability to create separation," Rivera said. "He can be an exciting player with the ball."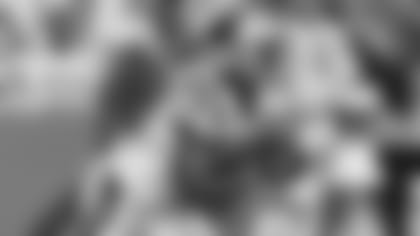 ARTIS-PAYNE SURGING: He's behind Jonathan Stewart, Christian McCaffrey and Fozzy Whittaker in the pecking order, but running back Cameron Artis-Payne has made a strong case for a roster spot throughout the preseason.
After a two-touchdown performance against the Titans, the former fifth-round pick carried the ball eight times for 51 yards in the preseason finale, and he turned heads with an ankle-breaking 35-yard scamper.
"The offensive line got great push all preseason long," Artis-Payne said. "We dominated up front."
Rivera has taken notice of Artis-Payne's productive preseason, and he recently spoke about needing to find ways to get him involved during the 2017 season, as challenging as that may be with such a crowded backfield. Last year, Artis-Payne was often inactive on game day, and that was before McCaffrey's arrival.
Artis-Payne is confident he can help the Panthers, and if they choose to give his roster to spot to someone else, he's doesn't anticipate having any trouble finding work.
"I'm going to get paid," Artis-Payne said. "Somewhere."
TOUGH BREAK FOR SANCHEZ: Cornerback Zack Sanchez had been trending in the right direction the last couple of weeks, especially after recording a highlight-reel interception a week ago against the Jaguars.
But with the roster cutdown looming, Sanchez suffered an injury in the preseason finale against the Steelers, an injury that Rivera admitted might "change some things."
"It was my right groin that I had surgery on last year," Sanchez said. "I kind of felt something pull and pop. Hopefully it's just scar tissue, you know, nothing serious. I think I'll be alright.
"My faith is strong. I'm here for a reason."
Sanchez was cut during last year's final cuts, so he knows nothing is guaranteed for him this time around. Still, he feels he's a much better player now than he was at this time a year ago.
"Night and day. I'm totally different," Sanchez said. "I understand my role. I don't try to do too much. I play faster. I've put myself in position to make plays, and that's something I didn't do last year. I grew up a lot. It's been a great growing year for me and I'm just happy to be where I'm at."
LAST LEG OF THE COMPETITION: What will the Panthers do with their specialists? That's one of the biggest questions entering the roster cutdown.
As far as the punters go, veteran Andy Lee punted twice with a 36-yard net and young up-and-comer Michael Palardy punted four times with a 35.5-yard net.
"I feel good. I don't feel like I'm hitting the ball any differently. I feel like everything is there. We'll see what happens though," said Lee, who is coming off a season-ending hamstring injury. "Palardy is a great punter and he deserves to play somewhere in this league. He's done great job. It's made for a great competition."
As for Graham Gano and Harrison Butker's kicking competition, Gano received the night's only field goal attempt. He missed a 51-yarder off the right upright to finish the preseason 3-for-5, with both of his misses coming from 50-plus yards.
Thursday night, Butker handled kickoffs and recorded three touchbacks. He made both of his field goal attempts this preseason.
Neither kicker spoke to the media after the game.
View the top photos from Panthers vs. Steelers by team photographer Melissa Melvin-Rodriguez.