CHARLOTTE – The Panthers' defensive line is getting closer to full strength.
With the season opener at San Francisco one week away, defensive tackles Vernon Butler (knee) and Kyle Love (ankle) and rookie defensive end Daeshon Hall (knee) were welcomed back for Sunday's practice.
Love was fully involved during the practice session while Butler and Hall spent most of their time working on the side.
"Kyle's closer than Vernon," head coach Ron Rivera said. "Kyle had a very good day, but I also thought Vernon moved around pretty good, too. So I'm excited about the potential for both these guys."
Butler injured his knee in the preseason opener against the Texans, and the former first-round pick has been patiently waiting for the green light to return to action.
"My conditioning is good. I'm feeling good," Butler said. "It was frustrating. But I'm glad I'm back out here and I've got another chance to play football.
"That's goal – to get out there for the opener."
But if Butler can't go against the 49ers, the Panthers are fortunate to have some flexibility with defensive ends Julius Peppers, Charles Johnson and Wes Horton, who all have the ability to shift inside.
"Very much so," Rivera said. "We've got guys that have some position flexibility and they can help us with different looks."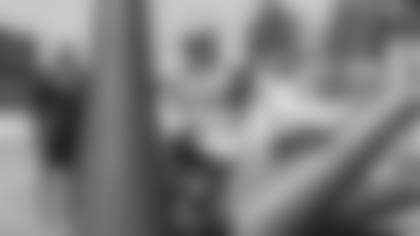 HEALTH WATCH: Only two players sat out practice because of injury: cornerback Cole Luke (ankle) and linebacker Jared Norris (undisclosed).
Quarterback Cam Newton continued to take all the snaps with the first-team offense, and as far as Rivera's concerned, his quarterback is all systems go for San Francisco.
"I think he's ready," Rivera said. "You wish he had had a few more snaps and played a little bit earlier in the preseason so we'd have more to gauge on, but what we saw we really liked.
"We like how everything seems to be meshing well together as an offense and we'll see how it goes as we continue to work this week."
CAM'S BROTHER MAKING NAME FOR HIMSELF: For one night at least, Newton's little brother Caylin was the one making headlines.
Caylin Newton is a freshman quarterback for Howard, which is now responsible for the biggest college football upset of all time against the spread. The Bison, a 45-point underdog against UNLV on Saturday night, pulled off a 43-40 victory.
Newton rushed for 190 yards and two scores and threw for 140 yards and one touchdown.
"I'm not surprised," Cam Newton said proudly after Sunday's practice. "Just stop calling him Cam's little brother. Call him Caylin."
CORN'S SEASON OVER: The Panthers held out hope that rookie cornerback Corn Elder would recover in time to contribute this season, but time ran out on the fifth-round draft pick, who was aiming to provide depth at nickel. But the knee injury he suffered during the first week of training camp forced Carolina to put Elder on season-ending injured reserve.
"The problem is when you come in with a young guy like that – and he has got a very bright future – but when he doesn't go through camp and he's still a ways away, you hate to do it, but I think it's probably for the best," interim general manager Marty Hurney said.
NO FULLBACK?: After releasing veteran Darrel Young and rookie Alex Armah, the Panthers and their power run game are left without a fullback on the roster.
But Rivera believes the tight ends can fill the void.
"A lot of it will be based on the personnel that we do have," Rivera said. "We've got two tight ends that have that kind of ability in Ed (Dickson) and Chris (Manhertz). Both those guys block very well and are good movement guys. We just don't have (a fullback) by name."
View photos from the Panthers' week of practice leading up to their game at San Francisco.