CHARLOTTE – Defensive tackle Colin Cole beat long odds to successfully return to the game he loves.
Right about now, the Panthers are just as thankful for that as Cole is.
With Dwan Edwards likely to miss his second consecutive game with a hamstring injury, Cole could make his second consecutive start when the Panthers visit the Arizona Cardinals on Sunday.
"It shows a lot of vision from our front office guys to see the need to have a veteran guy that can contribute waiting in the wings," Cole said. "I'm looking forward to the opportunity and the challenge – everybody on the interior is."
Head coach Ron Rivera admitted Thursday that it isn't looking good for Edwards to be ready by Sunday. In addition, rookie defensive tackle Kawann Short missed practice after suffering an ankle injury during Wednesday's practice, though Rivera remains hopeful that Short will return Friday.
Enter Cole, who signed with the Panthers in February after not playing the previous two seasons following a significant ankle injury.
"Probably two percent of guys that are out for multiple years get an opportunity to come back out and play," Cole said. "I have that, and I'm going to continue to take advantage of it.
"Every rep that I get is a great opportunity. The last two years, I was sitting at home right now. So every chance on the practice field, in the weight room, in the classroom and obviously on game day, I'm just ecstatic."
And so far, the Panthers are ecstatic about Cole, who has posted three tackles and two quarterback pressures.
"Colin has done a great job," Rivera said. "He's very professional about his approach to preparation, and that helps the young guys (Star Lotulelei and Short). He's a stabilizing force for those two young guys when they're in there with him. He's always got an arm around those guys."
In addition to Edwards looking like a long shot to play Sunday, safety Quintin Mikell (ankle) and cornerback D.J. Moore (knee) continue to miss practice. Rivera expects rookie Robert Lester to again start at safety alongside Mike Mitchell, while the cornerback rotation is still being hashed out opposite Captain Munnerlyn. Drayton Florence started the Panthers' last game, but Week 1 and 2 starter Josh Thomas is back after missing one game with concussion symptoms.
FAMILIAR FACE: The Cardinals sport a stout defensive line that ranks second in the NFL against the run. The unit is headed by first-year defensive line coach Brentson Buckner, who played for the Panthers from 2001-05.
"They're playing well, and you can always attribute some of that to coaching," said Panthers left tackle Jordan Gross, who was teammates with Buckner for three seasons. "I always felt like Buckner had a really good football mind, that he understood the game real well.
"He basically coached (Julius) Peppers early on his career on how to read offenses. He was talented physically, but he also really understood the game."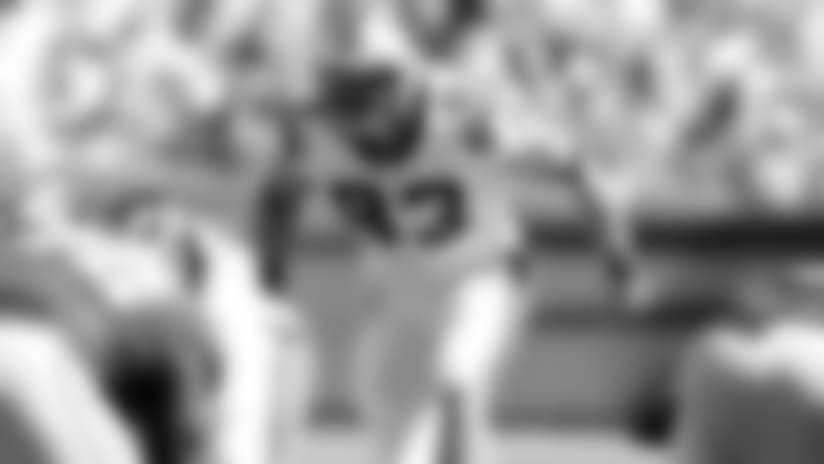 SPECIAL EFFECTS: Chase Blackburn is expected to get his second consecutive start at weakside linebacker as Jon Beason continues to mend, but Blackburn just wants to be on the field no matter the role.
A special teams stalwart as well, Blackburn said the more the defense goes to a nickel package against the Cardinals that sends him to the sideline, the more special teams snaps he wants to get.
"I want to get my plays," he said. "If I'm not getting them on defense, I want to get them on special teams.
"I love being out there on defense, not doubt about it. It's been great."
TACKLING NEW ROLE: The official gamebook from the Panthers' victory over the Giants mistakenly listed Nate Chandler as a starter at defensive tackle.
But make no mistake: Chandler is an offensive lineman now.
"I feel like I'm gaining my confidence as an offensive lineman," said Chandler, who played on the defensive front as a rookie in 2012 before converting to tackle in the offseason. "I've just got to keep improving and keep showing that I belong.
"I take it day-by-day and try to learn new things every day, especially beside these guys that have been playing eight, nine, 10 years. I just try to learn things from them and follow in their footsteps."
Chandler followed in Gross' footsteps against the Giants, logging the final 16 snaps at left tackle in the blowout victory. He also joined Gross on the field in the first quarter, reporting as a sixth offensive lineman and helping pave the way for fullback Mike Tolbert's fourth-down touchdown run from three yards out.
Chandler had played a total of one offensive snap in the first two games.
"Watching the film, there were some things I could have done a little better, but coming in and picking up where Jordan left off and matching his intensity was really important to me," Chandler said. "I have to put my best performance on tape no matter how many reps I get – one or 60. That's was my mentality going in."