CHARLOTTE – Defensive end Charles Johnson left Thursday's practice to spend a few days with his very ill grandmother, and playing Sunday versus the Atlanta Falcons was a challenge for him.
"I'm a tough guy; I don't like to show emotion and stuff like that," Johnson said. "But it was tough at times, because I know she's watching the game and I'm thinking about her lying in bed. It takes a toll on you."
Johnson finished with six tackles and one sack, which came in the fourth quarter when he leveled Falcons quarterback Matt Ryan to help Carolina turn the game around.
Earlier in the game, he was visibly upset on the sideline and said his reaction was a result of a miscommunication regarding a substitution.
Johnson moved past that mix-up and played on with a heavy heart and a lot on his mind.
"There's a lot of things going on right now, and I just had to try to block it out and be a professional," Johnson said.
O-LINE IMPROVED: After giving up nine sacks in last Monday night's loss to the Philadelphia Eagles, the Panthers offensive line was much improved against Atlanta.
"They played great, there's no doubt," quarterback Cam Newton said.
Carolina's first offensive play resulted in Falcons defensive tackle Tyson Jackson delivering an instantaneous hit on quarterback Cam Newton. But Jackson was penalized for roughing the passer, negating the sack.
From there, the Panthers tightened up and allowed just two sacks, both of which came at the end of Newton scrambles.
"I thought the offensive line played really well," head coach Ron Rivera said. "The rotation at guard between Trai Turner and Chris Scott gave us a little something. We get this group back (healthy) next week, and this is the nice thing about it."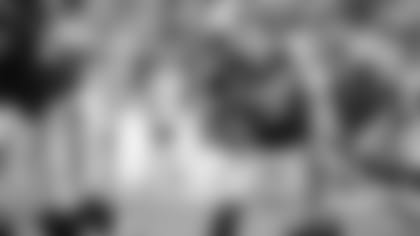 FOZZY FEATURED: With the game hanging in the balance in the fourth quarter, Fozzy Whittaker handled a bulk of the running back responsibilities.
"There was a stretch there where we put Fozzy in," Rivera said.
Whittaker carried the ball just three times in the second half for 11 yards, but he was often the running back lined up beside quarterback Cam Newton in the shotgun during Carolina's late-game possessions.
"We have a nice trifecta of running backs," Rivera said. "They all bring something different to the table."