CHARLOTTE -- If you took a poll of media, and perhaps even coaches, wide receiver Devin Funchess would have won last year's spring and summer MVP in a landslide.
Of course, that doesn't mean much if it doesn't translate to the fall. And that's why Funchess may have also received votes for the Panthers' most disappointing player in 2016.
But how much was truly on him?
"We could've used him better," head coach Ron Rivera said Tuesday. "That's one of the things we're learning about Devin is how much more we can use him."
As a rookie, Funchess was targeted 63 times, making 31 receptions for 473 yards and five touchdowns. Last year, he caught just 23 passes for 371 yards and four scores on 58 targets.
Maybe Funchess didn't create enough separation. Maybe offensive coordinator Mike Shula didn't make him enough of a priority. Same for quarterback Cam Newton.
Like most things in football, there wasn't one clear-cut reason. But it's not like Funchess, who's just a week and a half removed from his 23rd birthday, has reached his ceiling. And while additions like Christian McCaffrey and Curtis Samuel threaten to cut down even more of Funchess' touches, he's apparently not all that threatened.
"Watch how he's dealing with the younger players," Rivera said. "Here's a guy that's going into his third season, [who] can really be a big player for us. [He] put his arm around some of these guys and has really tried to help them.
"It shows his confidence. He's confident in what he's doing – he's willing to share with the younger guys and help coach them up. So I'm excited about who he can be."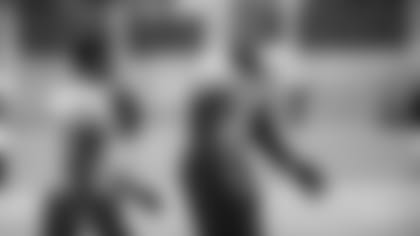 Even if OTAs were a good gauge (they're not) of what new wrinkles a team may break out in the coming season, it'd still be difficult to make much of a prediction about what the Panthers' backfield will look like in 2017.
An NFL rule is keeping McCaffrey away for another week or so, and Rivera isn't in a rush to show his hand.
"I'm not going to tell you specifically how we're going to use him," Rivera said when asked how the Panthers' top pick will affect Jonathan Stewart.
Stewart, who's 209 yards away from becoming the all-time leading rusher in franchise history, doesn't have as much tread on his tires as typical 30-year-old backs. That's why the Panthers extended his contract through 2018 and fully plan on continuing to use him as a workhorse.
"It doesn't change Jonathan's role. We're going to do what we do," Rivera said. "It's just (McCaffrey's) a young man that can come in and supplant some of those reps."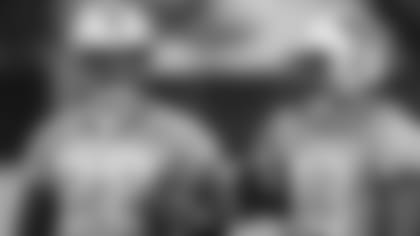 The kicking competition won't truly heat up until training camp, but it's tough not to keep one eye on Graham Gano and Harrison Butker these days.
On Thursday, they each booted a number of tries with mixed results. Another round Tuesday featured kicks from as far as 60 yards out.
Kickers may not get much pub, but this is setting up to be the summer's most interesting position battle. Which was the Panthers' plan.
"Graham's a very confident guy. He's got the right type of demeanor," Rivera said. "Sometimes you bring somebody in and it does send a message. Sometimes they get the message; sometimes they don't."
View photos from the second week of Carolina's organized team activities.