CHARLOTTE – Cornerback Chris Gamble has officially been ruled out of Sunday's game against the Cowboys due to an injured shoulder, and linebacker Jon Beason is "very doubtful" with a knee injury.
Gamble, who injured his shoulder against the Falcons in Week 4, did not play against the Seahawks the next week. The Panthers had a bye in Week 6, giving Gamble time off to recover, but the nine-year corner aggravated the injury when he returned to practice on Wednesday.
"He took the shot (in practice) and it's been downhill ever since," head coach Ron Rivera said. "He went to jam and jammed pretty hard. It flared up quickly."
Rivera said Gamble will be examined again by doctors sometime in the next few days.
Beason did not practice all week and is doubtful. Rookie Luke Kuechly will start at middle linebacker for the second consecutive game. In his first start at middle linebacker versus Seattle, Kuechly logged a career-high and team-leading 16 tackles and posted his first career interception.
---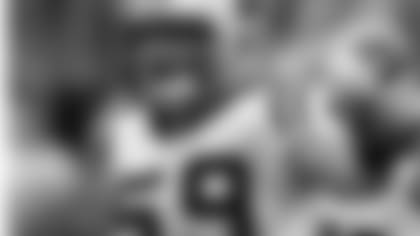 NOT ON AN ISLAND:** Kuechly likely will again be the man in the middle Sunday, but he doesn't have to feel like he's caught in the middle.
"To an extent I've got to be vocal to make sure everybody is lined up," Kuechly said. "But we've got some older guys on the team."
Beason has held down the middle and the play-calling responsibilities that typically go with the spot for the majority of his pro career, but his injury means that Kuechly is likely to start in the middle as he did for most of his career at Boston College.
Kuechly is a natural-born leader but he's still a rookie, so linebacker James Anderson will continue to play a prominent leadership role just like he did when Beason missed the last 15 games of 2011.
"The thing that's really helpful is that James Anderson is really an outstanding pro," Rivera said. "James has really taken the time to learn the game, and he helps whoever the 'MIKE' linebacker is. He helps take pressure off other people."
Rivera said Kuechly is putting in extra time to learn all the intricacies of playing in the middle on the pro level.
"I'm getting there," Kuechly said. "It's a process, still some small things we've got to figure out. It's very similar to 'WILL', but it's a little different. I'm getting more comfortable."
---
POWER PLAY: Coming off the bye week, Rivera hopes the Panthers offense establishes the power rushing attack. The Panthers are averaging 4.5 yards per carry and 114.0 yards per game.
"That's one of the things that we need to do," Rivera said. "We need to make sure that we're working hard at. It helps the quarterback."
A reliable ground game will help soften opposing defenses and alleviate the pressure on quarterback Cam Newton when he drops back to pass. 
"We want to be able to take some of that pressure off Cam, obviously," Rivera said. "And again, he puts it on himself too, but I think we can take some of (the pressure) off. Getting our running game going early would be a very good thing."
Carolina faces the NFL's 13th ranked rushing defense this week in the Cowboys, who are allowing 103.6 yards per game. Dallas is the league's No. 2 unit against the pass, allowing just 182 yards per game.
---
FEWER FLAGS: Only four NFL teams committed more penalties than the Panthers last season, but they've turned that around so far this season.
Carolina is third-best in the league with 5.0 penalties per game, down from 7.1 a year ago.
"A lot of it has been our technique," Rivera said. "Guys are better understanding the scheme and what we're trying to do. We've worked on the discipline and talked about the discipline."
In home games, Carolina has committed just 3.3 penalties a game.
"Of course, you just ruined it. Now we'll probably have 10," Rivera joked when asked about the improvement. "It's like, 'Oh this kicker is 20-for-20. He hasn't missed one yet' … shank."
---
Senior writer Bryan Strickland contributed to this report.