CHARLOTTE – Linebacker Thomas Davis always relishes the opportunity to return to his home state to face the Atlanta Falcons in front of family and friends.
Heck, most of them will even be hospitable enough to cheer for him.
"My family, some of them are still Falcons fans," Davis said. "It's always good to be able to go home and play in front of the home crowd."
Davis, who grew up in Shellman, Ga. – about three hours south of Atlanta - wasn't yet in kindergarten when the Georgia Dome opened its doors in 1989. His final year at the University of Georgia, the Panthers fell to 1-9 all-time in the building. Sunday, in Carolina's final appearance in the soon-to-be-replaced Georgia Dome, the Panthers will have a chance to improve to 6-6 there since they selected Davis in the first round of the 2005 NFL Draft.
Davis fondly remembers winning the SEC Championship there in 2002 and helping the Panthers clinch NFC South titles there in 2013 and 2014.
"I'm still not going to miss the Georgia Dome," Davis said. "I just won't."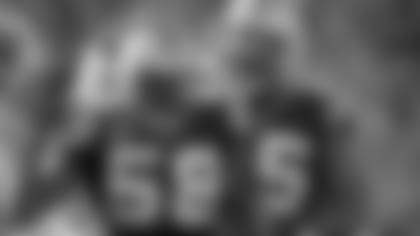 Georgia roots run deep on this team. Defensive end Charles Johnson, who left practice Thursday two-thirds of the way through because of a tight quad, also was born in Georgia and played for the Bulldogs. Cam Newton grew up in the Atlanta area, and cornerback Robert McClain, defensive tackle Paul Soliai and center Gino Gradkowski all have played for the Falcons.
KLEIN MOURNING PERSONAL LOSS: Linebacker A.J. Klein returned to Bank of America Stadium from his native Wisconsin one day after his father, Len, died after a two-year battle with cancer.
Klein hasn't practiced this week, and head coach Ron Rivera said Klein would return home for the funeral and that his status for Sunday's game hasn't yet been determined.
"We'll see how he is. I'll visit with him tomorrow," Rivera said. "It's a tough situation, but he wanted to be back here for a while."
Rivera has already ruled out running back Jonathan Stewart (hamstring) and defensive tackle Vernon Butler (ankle) for Sunday's game. Linebacker Jeremy Cash, who missed last week's game with a hamstring injury, has fully participated in practice all week.
BALL RETURNS: The Panthers made a roster move Thursday, re-signing safety Marcus Ball to the practice squad. Ball had been on the practice squad since the beginning of the 2015 season but was signed to the 53-man roster before last week's game, then he was waived when the team signed safety Michael Griffin.
DON'T COUNT ON NUMBERS: The Falcons are one of five NFL teams to give up 30-plus points on average so far this season, so many expect the Panthers to feast.
The Panthers sure hope so, but they know past results don't guarantee future outcomes.
"We've just got to play the game," wide receiver Ted Ginn, Jr. said. "There might be a knock on that defense, but you've just got to go out and play. They will look at film and correct themselves, just like we are."
The Panthers need only look back to last season, when Carolina demolished the Falcons 38-0 at home but just two weeks later traveled to Atlanta with a 14-0 record and headed home with a 20-13 loss.
"They're a really good team, especially when they play at home," Davis said. "We have to understand that."
View photos from the Panthers' week of practice leading up to their game against Atlanta.