CHARLOTTE – When wide receiver Ted Ginn began looking for a new football home following three seasons in San Francisco, he discovered he had something in common with the Carolina Panthers.
"This team had the same attribute that I had at the time of wanting to come out and prove something," Ginn said. "They wanted to prove themselves as a team, and I wanted to prove myself as Ted Ginn, Jr."
Heading into Ginn's first homecoming game Sunday, both sides are succeeding.
Ginn, who caught 33 passes for 384 yards and one touchdown in three years with the 49ers, already has 21 catches for 367 yards and two touchdowns through eight games with a Panthers squad riding a four-game winning streak.
"(The Panthers) gave me an opportunity to come in and show what I have, and I just went out and attacked it," Ginn said. "I'm thankful that I got a great opportunity, and I'm just going to keep it going.
"Whatever went on in San Fran was over with. Like (49ers head coach) Jim (Harbaugh) said, I was a part of the offense and special teams. I went out and played my role. I've got a new role here, and I'm having fun doing it."
Ginn said he enjoyed his time in San Francisco that concluded with an appearance in last year's Super Bowl, but he wanted more of a chance on offense after catching just two passes last season. The seventh overall pick in the 2007 NFL Draft by the Miami Dolphins - whom the Panthers will play in Week 12 – Ginn caught 128 passes for 1,664 yards in three seasons before being traded to the 49ers.
"I don't even harp on it anymore," Ginn said. "I got with the guys here, and they welcomed me with open arms and taught me the ropes. Now I've got an opportunity to go out and show what I have, and that's what I'm doing."
CAROLINA CONNECTION: Panthers head coach Ron Rivera is quite familiar with 49ers head coach Jim Harbaugh.
So is the old guard in the Panthers organization.
Harbaugh's first six seasons as an NFL quarterback coincided with Rivera's final six seasons as a linebacker – both as members of the Chicago Bears. Harbaugh spent his final days as a player, in 2001, on the Panthers roster.
"Jim is one of the really good guys I've been around as a teammate," Rivera said. "He's a fighter. He's got a lot of personality, similar to what Cam (Newton) has. He hates to lose. That was very evident when we were together."
Harbaugh's last hoorah as a player was a nine-week stint with the Panthers in 2001. He didn't see any game action, but he was among the first to see what a rookie receiver named Steve Smith might be able to accomplish in time.
"I had so much fun in those practices throwing to him because he was so good. He would just catch everything," Harbaugh said. "It was a great feeling to have the ball come off my finger and see it going his direction, and then he would make some kind of spectacular catch. It was real enjoyment.
"Steve Smith has done great things since then."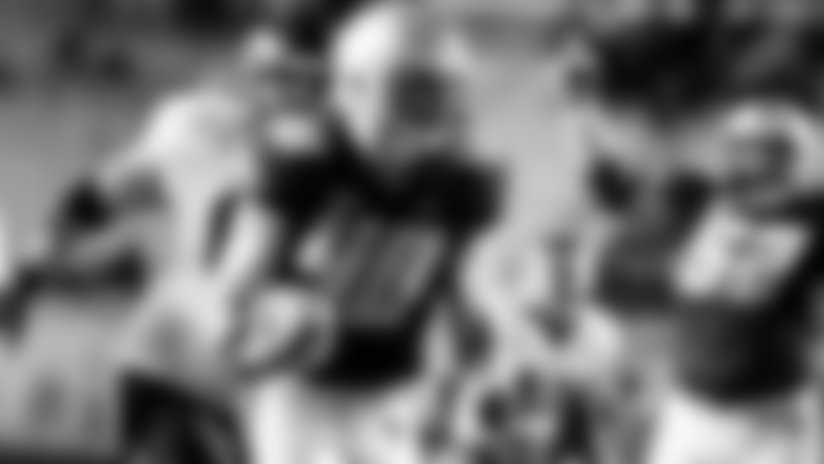 THE ONE THAT GOT AWAY: College recruiting can be an emotional process for coaches and players, and there's one recruiting miss that still haunts Harbaugh.
The former Stanford head coach pursued the commitment of a linebacker from Xavier High School in Cincinnati named Luke Kuechly, and Harbaugh came very close to landing the future Panthers star.
"I thought it went really well," Harbaugh told ESPN.com on Wednesday. "Sat in the home visit in the living room there in Cincinnati with the Kuechlys and felt confident and sure that Luke would be a Stanford man. And walked out of the living room that night feeling pretty darn good about it and got the tragic news the following week that he was going to Boston College."
Stanford finished No. 2 in the race for Kuechly.
"He gives me grief for that all the time," Kuechly said with a smile. "I saw him at the combine, and I talked to him a little bit about that.
"I took a couple visits out to Stanford. He was at my house. He's an intense guy. He's passionate about football."
---
Senior writer Bryan Strickland and staff writer Max Henson contributed to this report.