CHARLOTTE – After winning his first Defensive Player of Week award, defensive end Greg Hardy was essentially unfazed. He said it was nice to be recognized and that he plans to "to keep doing what I do."
Head coach Ron Rivera was thrilled his budding fourth-year defensive end received the honor.
"I'm excited for him," Rivera said, "because when you start getting recognized for your performances, you begin to realize that you know what, I do have that kind of ability. I am that good."
The numbers reaffirm just how good Hardy was against the New York Giants.
Rivera discussed how the coaching staff grades players during film review, counting the number of impact plays – which consist of things like sacks, backfield penetration and absorbing double teams – to evaluate production. He went into detail about Hardy's three-sack effort in Week 3.
"If you play 50 plays and you make five impact plays, your grade, your production is one out of every 10," Rivera said, adding that defensive ends typically make one impact play every four to seven snaps.
"I believe Greg was one out of every 2.3."
Impactful, to say the least.
"I think he's just beginning to scratch the surface," Rivera said. "There's a lot of people pulling for him because of what he means to our defense."
WILLING TO RUN: What's been the reason for running back DeAngelo Williams' 291-yard start to the 2013 season?
Rivera says the team's commitment to the traditional running game has played a major role.
"A lot of it has to do with our approach and the way we've looked at things," Rivera said. "This year, we picked up right where we left off (last year), trying to make an impact with our running game."
Williams has been running with authority through three games and currently ranks third in the NFL in rushing yards.
"He's just hitting the hole hard," Rivera said. "When he's going, he knows where he wants to go and he hits that crease. It's one cut, and he lowers that shoulder and goes. There's not a lot of dancing; he's very decisive; he's got great vision right now."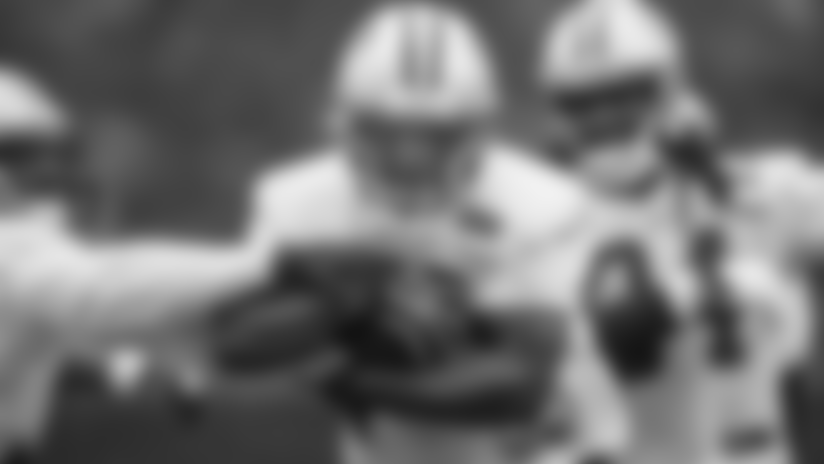 BARNER BACK: Rookie running back Kenjon Barner, who missed the last preseason game and first three games of the regular season with a foot injury, returned to practice this week.
"It felt great. A long time overdue for me," Barner said. "You get tired of treating and doing all that stuff necessary to get back on the field. You just want to be back. To be able to get back out there and practice with the guys and be a part of the team felt great."
Barner is hoping to make his NFL regular season debut in Week 5 at Arizona. Rookie offensive lineman Edmund Kugbila will have to wait a lot longer to make his.
Kugbila was placed on injured reserve prior to the start of the season and he recently underwent knee surgery.
"This was done to help him along," Rivera said. "This was decided in the best interest of the young man's career and his future with this football team."